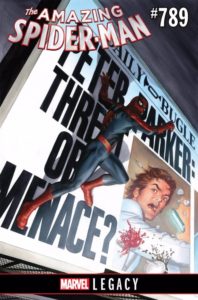 Hey, Marvel Fans, it's AMAZING SPIDER-MAN #789! Legacy launches with a bang this month, as Marvel returns to legacy numbering with all of their long-running titles. This is a major jumping-on point for fans, both new and old.
"THE FALL OF PARKER Part 1. Down on your luck Peter Parker is back, for good or ill. New York has changed, and so has Peter – but entering a new phase of his Spider-Man life isn't easy; neither are new relationships OR new foes. Peter Parker is not the Spider-Man you remember, but why is he taking his fight to THE DAILY BUGLE? And what happened to PARKER INDUSTRIES? PLUS: Includes 3 bonus MARVEL PRIMER PAGES. Story by Robbie Thompson and art by Mark Bagley. Rated T"
Interested in Getting Started In SPIDER-MAN (PETER PARKER) comic books? Check out our guide here.
Related shopping tags: ALEX ROSS (CA), MARVEL LEGACY (2017), SPIDER-MAN, SPIDER-MAN (PETER PARKER), SPIDER-MAN FAMILY TITLES