WELCOME
Hello, comic fans! Comic books are poised for another banner year in 2018. There's so much to look forward to, it almost makes our heads explode every month when we see the latest catalog. And if you want something to make your head explode, check out our latest announcement! As always, let us know if there is something we can track down for you…we try to cater to regular, normal newbies…crazy, intense collectors…and everyone in between (except the Grandmaster from Thor: Ragnarok, he's not nice) — Glenn
---
ANNOUNCEMENT
Free Comic Book Recommendation Service
Tell us your interests and we will tell you what's available for pre-order each month.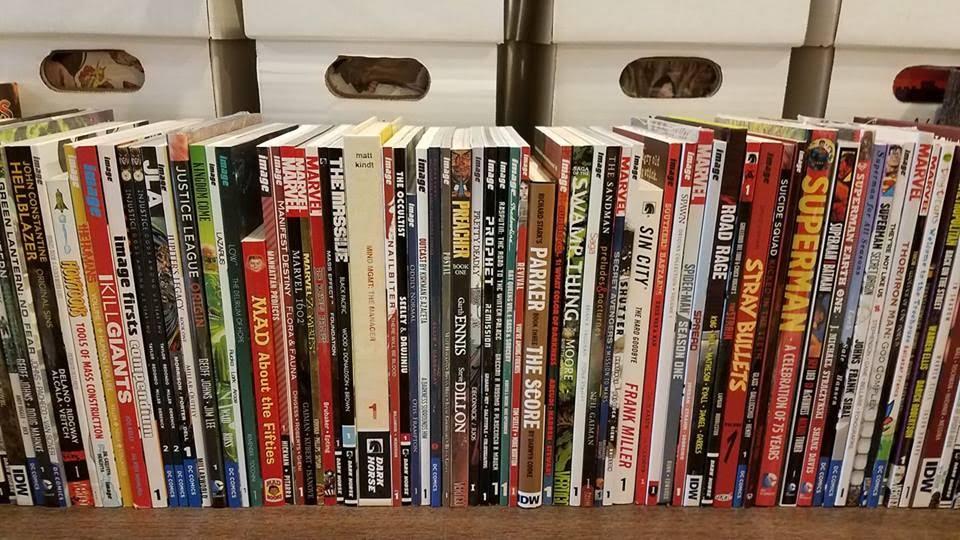 We've improved our website with a new FREE service– Recommendations. Since we tag everything in the phone-book sized Previews Catalog each month, if you tell us what interests you have, we can recommend the perfect comics that match those interests each and every month.
Curious about print comic books or trade paperbacks? Casual fan or seasoned veteran? Want to start an ongoing collection for your children? We've created a curated online experience for everyone! Monthly. No obligation. Easy setup. Mobile friendly. Highly customizable.
---
GET STARTED IN COMIC BOOKS
---
NEW TAGS
The following tags were added to Spiral Comics' database since last month. They can represent existing pop culture tags that hadn't been created in our database yet, as well as brand new tags from the latest Previews catalog. Click on the links to see a short description and any items that can be pre-ordered this month…
ADVENTURE TIME
BLACK HAMMER
CROW
CYBERFROG
DAKEN
DARK REIGN (2008)
DARK SOULS
DARKHAWK
DC SILVER AGE CLASSICS REPRINTS (1992) (10)
DEATHLOK (HENRY HAYES)
DEATHLOK (MICHAEL COLLINS)
DOCTOR STRANGE: DAMNATION (2018)
ELFQUEST
GREEN HORNET
IDW GREATEST HITS
MARVEL EDGE (1995)
MARVEL PREMIERE GRAPHIC NOVEL (MPGN)
PEANUTS
THREE STOOGES
---
SPOTLIGHT TAG
Each month, Spiral Comics focuses on a tag which has a stand-out presence in the latest Previews catalog. Check it out!
MARVEL TRUE BELIEVERS REPRINTS (2015)
May is Venom's 30th anniversary month. A bevy of True Beleivers reprints re-issue every significant milestone in Venom's long publishing history! Pre-order them off our tag summary page. Plus, there's tons of other key Marvel reprints on this page too!
---
FIRST IMPRESSIONS FOR JANUARY 2018
---
NEWLY ADDED AND IN-STOCK
---