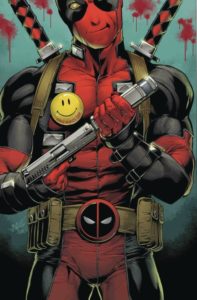 It's not enough to launch an all-new DEADPOOL series this month. We need a new mini-series as well. You know, cause there's a new Deadpool movie coming out. So, you have to have saturate the market, firehose style.
"The Regeneratin' Degenerate and his old pal Weasel are back, and they're imposing their special brand of justice on any other killers for hire who don't live up to their moral code – starting with a dangerous operation that'll take Deadpool into the heart of a castle filled with ninja…WHO WILL STAB DEADPOOL MULTIPLE TIMES IN THIS ISSUE. Ouch. And that says nothing of the emotional damage the Merc with the Mouth is constantly grappling with… Leave the kiddos at home, True Believers, 'cause 'Killer' Cullen Bunn and 'Never Misses His' Mark Bagley are bringing you mercenary action as you like it – bombastic, badass, and, of course, bloody. Parental Advisory"
Interested in Getting Started In DEADPOOL comic books? Check out our guide here.
Related shopping tags: CULLEN BUNN (W), DEADPOOL