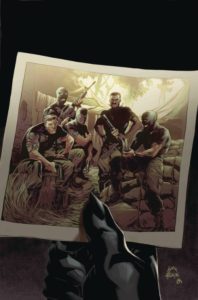 This one-shot from Donny Cates will expand the history and mythology of the symbiote species. Not for nothing, it'll be a bit of a retroactive continuity addition, I'm sure.
"SPINNING OUT OF THE PAGES OF VENOM. As the United States of America struggled through the Vietnam War, Nick Fury of S.H.I.E.L.D. needed a secret weapon – and when an ancient creature was discovered at an archaeological dig site, he was sure he'd found it. In reality, the discovery was an ancestor of the Klyntar symbiotes…and would become a waking nightmare for a platoon of American soldiers. Rated T+."
Interested in Getting Started In VENOM comic books? Check out our guide here.
Related shopping tags: SPIDER-MAN FAMILY TITLES, VENOM