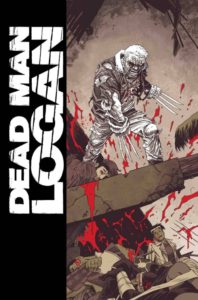 Old Man Logan's story continues! But, adamantium poisoning is finally overtaking his healing factor, and he's dying. What's a grumpy, old man Logan to do?
"DEAD MEANS DEAD. The writing's been on the wall for months now… Logan is dying. And he ain't getting any better. Sick from the Adamantium coating his skeleton, his search for a cure has led to nothing but dead ends. But for once he's actually trying to leave this world with some unfinished business… Can Logan take his last breath without slaughtering the X-Men again? Not if Mysterio has anything to say about it… Superstar creative team ED BRISSON (OLD MAN LOGAN, UNCANNY X-MEN) and MIKE HENDERSON (DEADPOOL VS. OLD MAN LOGAN), with covers by DECLAN SHALVEY (MOON KNIGHT), is putting this old dog out of his misery with a bang. Parental Advisory."
Interested in Getting Started In OLD MAN LOGAN comic books? Check out our guide here.
Related shopping tags: OLD MAN LOGAN, WOLVERINE, X-MEN FAMILY TITLES