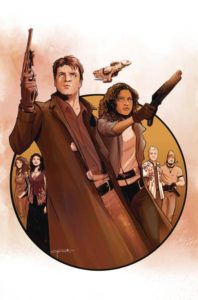 Awesome!! For me, this is probably the most exciting offering this month! As far as Serenity (Firefly) comics go, apparently Dark Horse is out and Boom is in. And Boom's first series will explore the Unification War era–where Mal and Zoe forged their strong relationship and what it may mean for today. Written by veteran, Greg Pak, this is sure to be great!
"BOOM. Studios, along with visionary writer and director Joss Whedon (Buffy the Vampire Slayer, The Avengers), presents an all-new era of the pop culture phenomenon Firefly , as one of the most demanded stories in the franchise's history is revealed for the first time. Captain Malcolm 'Mal' Reynolds, a defeated soldier who opposed the unification of the planets by the totalitarian governed Alliance, will undertake any job-legal or not-to stay afloat and keep his crew fed. Find out now how his story began as BOOM. Studios delves into Malfs past, how he met his first mate Zoe and the real truth about the War of Unification.the intergalactic civil war that divided friend and family alike. Focusing on family, loyalty, identity, and the price of redemption, writer Greg Pak (Mech Cadet Yu, Totally Awesome Hulk) and artist Dan McDaid (Judge Dredd: Mega City Zero) take you back to the battleground where Mal's journey began."
Interested in Getting Started In SERENITY (FIREFLY) comic books? Check out our guide here.
Related shopping tags: SERENITY (FIREFLY)