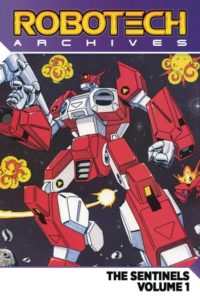 This is exciting! Titan is actually coming through on their intent to compile all the old Robotech comics–some of which has never been collected in trade paperback. This volume begins the long Sentinels storyline!
"The longest-running Robotech comic series, collected at last as part of the Robotech Archives. Featuring the work of fan-favorite creators such as the Waltrip brothers, and packed with classic material that is now out-of-print or has never previously been collected. Ten years after the Macross Saga, the Pioneer Mission encounters a coalition of alien species known as The Sentinels. The heroes of the First Robotech War return to an uncertain future and a galaxy of adventure. 'A tremendous piece of anime and manga history… [Robotech Archives] will thrill those familiar with the work.' – ICv2."
Interested in Getting Started In ROBOTECH comic books? Check out our guide here.
Related shopping tags: ROBOTECH