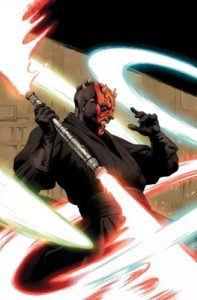 Here's a cool 'series' for die-hard Star Wars fans. This is a series of one-shots featuring four different heroes and four different villains from the three different trilogy eras. I don't have any reason to believe the stories are tied together like Dark Horse did with their VECTOR storyline a while back (now Legends). But these should be seriously cool anyway.
"RISE OF THE SITH. A living weapon of rage and bloodthirst, DARTH MAUL has stayed in the shadows of CORUSCANT waiting for his chance to strike against the JEDI ORDER. However, since tasting his first blood, the SITH lord struggles to contain his desire for destruction and questions the wishes of his methodically plotting master. Could Maul have had another path in life, or was he always fated to follow a dark road? Guest-starring DARTH SIDIOUS. Rated T."
Interested in Getting Started In STAR WARS comic books? Check out our guide here.
Related shopping tags: DARTH MAUL, STAR WARS, STAR WARS (NEW CANON) (2014)