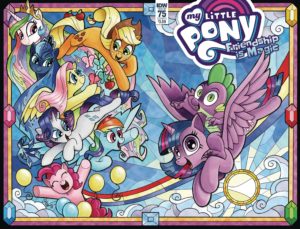 The flagship MLP series reaches 75 issues! Who would have thought this phenomenon would be galloping this long?
"My Little Pony celebrates 75 issues of friendship and fun with this double-sized adventure. When a chance purchase leads to a legendary quest for a missing constellation, the ponies reach for the stars and find themselves in the path of their most galactic villain yet… the chaotic Cosmos."
Interested in Getting Started In MY LITTLE PONY comic books? Check out our guide here.
Related shopping tags: MY LITTLE PONY