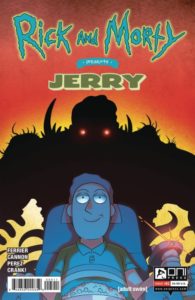 Another in what we hope is an endless string of RICK AND MORTY PRESENTS one-shots!
"Rick and MortyTM Presents is back by popular demand. Jerry's wisely blaming all his marital issues on his Dad-bod. When he goes to Rick for a quick fix, things go so poorly, it's…demonic. Written by Ryan Ferrier (Batman/Teenage Mutant Ninja Turtles, Regular Show, D4VE, and more.),with series artists CJ Cannon and Joshua Perez."
Interested in Getting Started In RICK AND MORTY comic books? Check out our guide here.
Related shopping tags: RICK AND MORTY