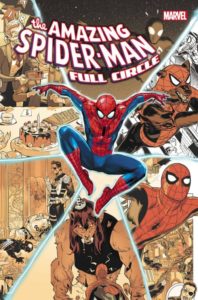 The "most unconventional Amazing Spider-Man story of all"…? There's so many names attached to this 96-page one-shot, it makes me think this is a writer roulette thing where each creative team has to pick up the story where the previous left off. I have no idea though. Could be anything. Hmm.
"A summons from SHIELD leads Peter Parker into a globe-spanning adventure that will test him as never before, one in which the future of all mankind lies in his gloved, webbed hands. Who is the mysterious prisoner in the steel box who keeps propelling the wall-crawler onward? Nick Spencer and an all-star team of Marvel's biggest writers and artists take up the challenge to create the wildest, maddest, most unconventional AMAZING SPIDER-MAN story of all. Guest-starring Nick Fury, Wolverine and Peter Porker, the Spectacular Spider-Ham. Rated T."
Interested in Getting Started In SPIDER-MAN (PETER PARKER) comic books? Check out our guide here.
Related shopping tags: SPIDER-MAN, SPIDER-MAN (PETER PARKER), SPIDER-MAN FAMILY TITLES