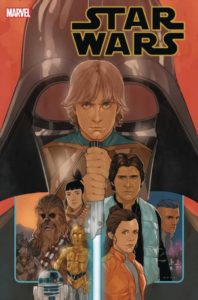 Wait!? What?! Final issue? But, but…what's next?!
"FINAL ISSUE. IT'S A TRAP. The epic REBELS AND ROGUES storyline reaches its explosive end. Can THREEPIO save the rock people of K43? Is WARBA the master or the student? Which Champion falls? And how much of LUKE'S desperate plan has DARTH VADER foreseen from the beginning? The search for a new rebel base continues. Rated T."
Interested in Getting Started In STAR WARS comic books? Check out our guide here.
Related shopping tags: STAR WARS, STAR WARS (NEW CANON) [2014]