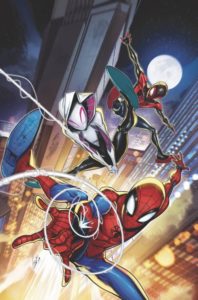 IDW relaunches their MARVEL ACTION: SPIDER-MAN series!
"Readers ages 8-12 can get tangled up in these all-new adventures of Spider-Man and his amazing friends. Peter, Miles, and Gwen have completed their internships at the Daily Bugle-now they're all shook up over their latest foe. A Marvelous new era continues."
Interested in Getting Started In SPIDER-MAN (PETER PARKER) comic books? Check out our guide here.
Related shopping tags: IDW MARVEL ACTION, SPIDER-MAN, SPIDER-MAN (PETER PARKER), SPIDER-MAN FAMILY TITLES