DARTH MAUL is a Star Wars Universe character best known for being the Sith apprentice to Darth Sidious in the first prequel film, STAR WARS: EPISODE I--THE PHANTOM MENACE. Maul was apparently killed at the end of that film by Obi-wan Kenobi, after Maul killed Kenobi's master, Qui-Gon Jinn in the same battle. But Maul survived his bisecting amputation and the subsequent lofty fall down the shaftway on Naboo to resurface in the animated television series, STAR WARS: THE CLONE WARS, and later in the animated television series, STAR WARS: REBELS. Maul even had a cameo appearance at the end of the SOLO: A STAR WARS STORY film.

Maul is a member of the Zabrak species, a near-human species with a distinctive ring of small horns encircling their heads. While the Zabrak homeworld is Iridonia, a tribe of male Zabraks known as the Nightbrothers lived on the planet Dathomir as breeding stock for the Nightsisters, a clan of human witches who could wield dark-side magicks. The Nightbrothers characteristically embellished their bodies with elaborate tattoo designs. Darth Sidious recruited Maul at a young age from the Nightsisters to be his apprentice, and Maul was highly trained in the Sith arts, including a proficiency with a duel-bladed lightsaber. Maul's mother was Mother Talzin, a clan leader. Maul had one brother, Savage Opress, who was the one to bring Maul back from seclusion and madness following his apparent death.

After his apparent death, Darth Maul was replaced under the Rule of Two by Darth Tyranus, Sidious' new Sith apprentice. A recovered Maul would later challenge Sidious but be defeated, and Sidious would kill Maul's brother, Savage Opress. Maul founded a crime syndicate, but would later become more keenly obsessed with finding Obi-wan Kenobi when he learned he may still be alive. Maul was defeated by Kenobi swiftly and definitively when Maul found him on Tatooine. Darth Maul has had a long and fairly substantial story thread within the Prequel Era of the Skywalker Saga, and he remains a popular villain among Star Wars fans.
Related Tags: BOBA FETTDARK HORSE/HASBRO COMIC PACK REPRINTS (57)DARTH MAULDARTH VADERMARVEL TRUE BELIEVERS REPRINTS [2015]STAR WARSSTAR WARS (LEGENDS)STAR WARS (NEW CANON) [2014]STAR WARS 40TH ANNIVERSARY VARIANT COVERSSTAR WARS ACTION FIGURE VARIANT COVERSSTAR WARS MOVIE ADAPTATIONSSTAR WARS PUZZLE PIECE VARIANT COVERS [2019] (27)WIZARD NO. 1/2 ISSUES
Current Series
This is a curated list of the most current series to help you get started with Darth Maul comic books. The series listed in this section are predominantly series of individual comic issues, but the list can include digests and softcovers (and even hardcovers) if the material is original material.

Darth Maul has never had an ongoing series of his own, and the Sith Lord is not always in publication. He tends to get sporadic mini-series and one-shots of his own and occasional guest appearances in other titles.

Darth Maul is currently on a publishing hiatus.
Latest Jumping-On Points
Comic books are serialized periodicals. The absolute best place to jump on with any comic series is a series beginning, but, if the run has gotten lengthy, the beginning of a new story arc or of a new creative team are other great--and perfectly acceptable--places to get started right away. This section contains a curated list of the latest issues from current and recent series where you can get started in Darth Maul. Look below for series beginning or start of a story arc. Subsequent sections explore the subject's publishing history and indicate other less recent places to get started in Darth Maul.
There are currently no latest points to display.
Compilations
In modern comic publishing, it's common (and expected) for individual comic book issues to be collected into compilations of trade paperbacks and/or hardcovers, as well as other special compilations. Unlike the individual source issues, the collected editions typically stay in print for long periods and are less 'collectible.' If individual issues are out of reach or are not of interest to you or if you just need reading copies, the following collected editions of Darth Maul comic books are the most recent in-print editions and are the perfect alternative to get started right away with Darth Maul. The following compilations are presented in a chronologically-based suggested reading order with softcover editions before any hardcover editions (unless the only in-print editions are hardcover--these are integrated into the softcover list).

Given that a good portion of Darth Maul's publishing history is made up of anthology stories or one-shots, not all of his material lends itself to distinct compilation. A couple of his self-titled mini-series are still in print, however.
*As an Amazon Associate, I earn from qualifying purchases. Full disclosure
1st Appearance
The first appearance of a character in comic book form is often the most valuable issue featuring that character. It's a nice place to get started in Darth Maul, if it's within your budget. Darth Maul's first comic book appearance is STAR WARS: EPISODE I THE PHANTOM MENACE [1999] #1. Although the Wizard issue #1/2 came out shortly before issue #1, Darth Maul does not appear (except in a sketch in the ancillary sketchbook pages) in the #1/2 issue's short, tie-in stories. The entire STAR WARS: EPISODE I THE PHANTOM MENACE [1999] #1-4 series was published in May of 1999 before Darth Maul's appearance in Jun 1999 in STAR WARS: EPISODE I OBI-WAN KENOBI [1999], which is a recap of the movie from Obi-wan's point-of-view.
STAR WARS: EPISODE I--THE PHANTOM MENACE [1999] #1 (1st appearance of Darth Maul (in comics))
Main Publication History
Series beginnings are always great places to get started in comic books. Here is the Main Publication History for Darth Maul comic books. Darth Maul has had numerous anthology appearances and a few self-titled mini-series throughout his publishing history. Some of these stories are now relegated to Legends, and some are in the New Canon. The distinction is not simply based on the publisher, since the Dark Horse movie adaptation and the SON OF DATHOMIR mini-series are technically in the New Canon.
STAR WARS: EPISODE I--THE PHANTOM MENACE [1999] #1-4 (official movie adaptation)
STAR WARS: EPISODE I OBI-WAN KENOBI [1999]
STAR WARS: DARTH MAUL [2000] #1-4
STAR WARS TALES [1999] #7-10, 17, 24 (appearances of Darth Maul in this anthology series)
STAR WARS: JEDI QUEST [2001] #1 (appearance of Darth Maul (dream sequence))
STAR WARS [1998] #40 (brief appearance of Darth Maul)
STAR WARS VISIONARIES [2005] (anthology book that contains a Darth Maul story)
STAR WARS: THE CLONE WARS [2008-DIG] [VOL 12]--THE SITH HUNTERS
STAR WARS: DARTH MAUL--SON OF DATHOMIR [2014] #1-4 (adapted from unproduced screenplays for Season 6 of THE CLONE WARS animated television show, a New Canon chapter of Darth Maul's saga)
STAR WARS READS 2018 FREE PREVIEWS [2018] (contains a short preview of STAR WARS: AGE OF REPUBLIC--DARTH MAUL [2019] #1)
Selected Key Storylines
This section contains a curated list of some of the best storylines for Darth Maul, any one of which can be a good place to get started. There's relatively so little Darth Maul material in total, it's tempting to just re-list his entire publishing history in this section, but we'll resist the urge. Here are his primary mini-series. Most of his anthology stories are good also.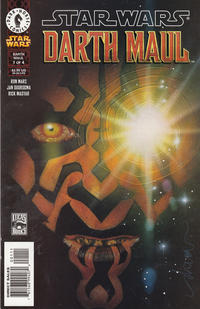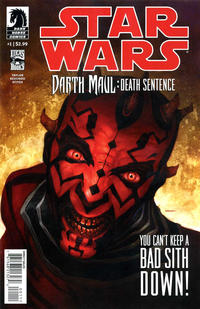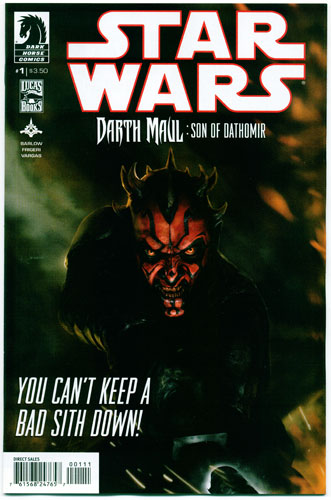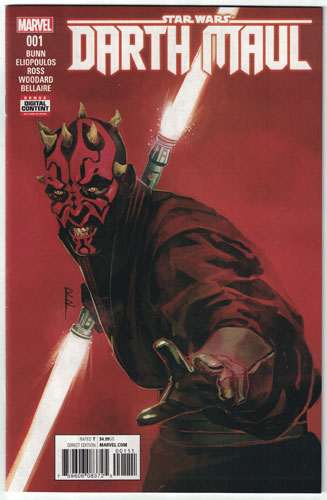 If you've enjoyed non-comic media for Darth Maul, this section describes the comic book source material for some of the most popular non-comic media. But, with Star Wars, movies and other media are typically not produced from comic source material. Comic book adaptations and comic book spin-offs are produced from movies and other media.
Key Issues
A key issue can be an acceptable place to get started with Darth Maul, but they are more of a collector's checklist, as they can carry high price tags. The issues listed in this section are predominantly non-variants (i.e. main covers). Because of his popularity, Darth Maul has a slight tendency to bump up the value of anything he appears in.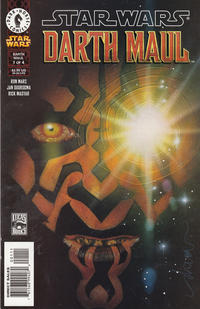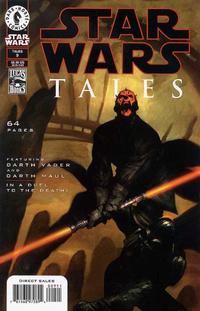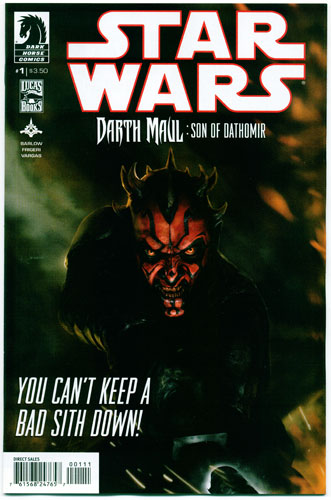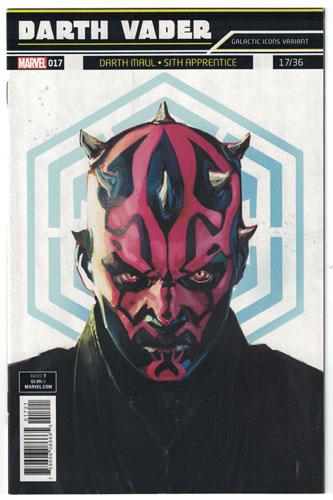 STAR WARS: DARTH MAUL [2000] #1 (1st issue of this mini-series)
STAR WARS: JEDI QUEST [2001] #1 (appearance of Darth Maul; Darth Maul cover)
STAR WARS TALES [1999] #9 (appearance of Darth Maul; Darth Vader vs. Darth Maul; Darth Maul cover)
STAR WARS TALES [1999] #17 (appearance of Darth Maul; Luke Skywalker battles Darth Maul ghost)
STAR WARS TALES [1999] #24 (appearance of Darth Maul)
STAR WARS: DARTH MAUL--DEATH SENTENCE [2012] #1 (1st issue of this mini-series)
STAR WARS: DARTH MAUL--SON OF DATHOMIR [2014] #1 (1st issue of this mini-series; hot back issue)
STAR WARS: DARTH MAUL--SON OF DATHOMIR [2014] #2 (hot back issue)
STAR WARS: DARTH MAUL--SON OF DATHOMIR [2014] #3 (hot back issue)
STAR WARS: DARTH MAUL--SON OF DATHOMIR [2014] #4 (hot back issue)
STAR WARS: DARTH MAUL [2017] #1 STAR WARS ACTION FIGURE VAR &nbsp(Darth Maul cover)
DARTH VADER [2017] #17 REIS GALACTIC ICON VAR &nbsp(Darth Maul cover)