Spongebob Squarepants is that energetic and optimistic sea sponge who lives in a pineapple under the sea in Bikini Bottom, who loves his job as a fry cook at the Krusty Krab, and who gets into all manner of mischief and adventure with his supporting cast of other whacky characters. The Spongebob Squarepants animated television series is Nickelodeon's highest rated and most distributed property, the foundation of a massive media franchise. When not inciting spurious debates, the show is often critically praised for its wit and clever humor.
Related Tags: FREE COMIC BOOK DAY (FCBD)SIMPSONSSPONGEBOB
Compilations
In modern comic publishing, it's common (and expected) for individual comic book issues to be collected into compilations of trade paperbacks and/or hardcovers, as well as other special compilations. Unlike the individual source issues, the collected editions typically stay in print for long periods and are less 'collectible.' If individual issues are out of reach or are not of interest to you or if you just need reading copies, the following collected editions of Spongebob comic books are the most recent in-print editions and are the perfect alternative to get started right away with Spongebob. The following compilations are presented in a chronologically-based suggested reading order with softcover editions before any hardcover editions (unless the only in-print editions are hardcover--these are integrated into the softcover list).

Spongebob Comics compilations are collected by theme, not by chronological issue: they collect various segments of individual issues throughout the series' long run according to the particular compilation's theme. Compared to the number of individual issues that have been published, not very many compilations have been published.
*As an Amazon Associate, I earn from qualifying purchases. Full disclosure
Cover
Release Month
Series / Number / Storyline
Quick View
Apr 2017
SPONGEBOB COMICS [2011-TPB] VOL 01: SILLY SEA STORIES
CURRENT PRINTING
Go to Amazon
Quick View
Apr 2017
SPONGEBOB COMICS [2011-TPB] VOL 02: AQUATIC ADVENTURERS, UNITE!
CURRENT PRINTING
Go to Amazon
Quick View
Aug 2017
SPONGEBOB COMICS [2011-TPB] VOL 03: TALES FROM THE HAUNTED PINEAPPLE
CURRENT PRINTING
Go to Amazon
Quick View
Oct 2017
SPONGEBOB COMICS: TREASURE CHEST [2017-HC]
CURRENT PRINTING
Go to Amazon
1st Appearance
The first appearance of a character in comic book form is often the most valuable issue featuring that character. It's a nice place to get started in Spongebob, if it's within your budget. The SpongeBob SquarePants characters had appeared before in comic stories within Nickelodeon Magazine and Tokyopop's Cinemanga series, but they never featured in their own comic book until SPONGEBOB COMICS [2011]. Spongebob may not be Smitty WerbenJagerManJensen, but he's still got a #1 issue!
SPONGEBOB COMICS [2011] #1 (1st appearance of Spongebob (in his own featured comic book))
Main Publication History
Series beginnings are always great places to get started in comic books. Here is the Main Publication History for Spongebob comic books. Spongebob has had a series of manga-sized digest from Tokyopop and one long-running series from Bongo/United Plankton Pictures with an associated annual series. See the Secondary Publishing History for a series of Free Comic Book Day (FCBD) issues.
SPONGEBOB SQUAREPANTS MOVIE CINE-MANGA [2003-DIG]
SPONGEBOB SQUAREPANTS CINE-MANGA [2003-DIG] VOL 01-12
SPONGEBOB COMICS [2011] #1-85
SPONGEBOB COMICS ANNUAL-SIZE SUPER-GIANT SWIMTACULAR [2013] #1-6
Secondary Publication History
If you've already enjoyed some of the series listed in the Main Publication History above, series from this secondary publication list are very good places to further your exploration. Spongebob participated in Free Comic Book Day (FCBD) faithfully.
BONGO COMICS FREE-FOR-ALL! 2012 / SPONGEBOB COMICS FREESTYLE FUNNIES [2012]
SPONGEBOB FREESTYLE FUNNIES [2013]
SPONGEBOB FREESTYLE FUNNIES 2014 [2014]
SPONGEBOB FREESTYLE FUNNIES 2015 [2015]
SPONGEBOB FREESTYLE FUNNIES 2016 [2016]
SPONGEBOB FREESTYLE FUNNIES 2017 [2017]
SPONGEBOB FREESTYLE FUNNIES 2018 [2018]
Key Issues
A key issue can be an acceptable place to get started with Spongebob, but they are more of a collector's checklist, as they can carry high price tags.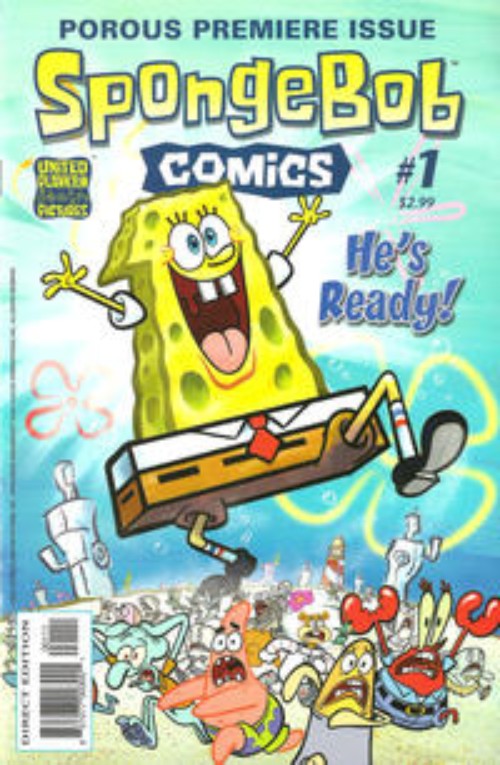 *As an eBay Partner, I earn from qualifying purchases. Full disclosure
SPONGEBOB COMICS [2011] #1 (1st appearance of Spongebob (in his own featured comic book), low print run)