The Simpsons are that iconic yellow-hued family consisting of Homer, Marge, Bart, Lisa and Maggie. The animated show is the longest-running American television series with a mulititude of awards. The show parodies American culture and society through its titular family and their large stable of supporting characters. Bongo Comics was created specifically to publish Simpsons comic books, and their flagship comic book title, SIMPSONS COMICS, was a long-running comic book series. Many characters in the Simpsons world have had their own one-shots or mini-series, including the fictional-within-a-fiction characters, such as Itchy and Scratchy and Radioactive Man.
Related Tags: CROSS-PROPERTY CROSSOVERSEISNER AWARD NOMINEEFANTASTIC FOUR [1961] NO. 1 COVER HOMAGEFUTURAMASIMPSONS
Compilations
In modern comic publishing, it's common (and expected) for individual comic book issues to be collected into compilations of trade paperbacks and/or hardcovers, as well as other special compilations. Unlike the individual source issues, the collected editions typically stay in print for long periods and are less 'collectible.' If individual issues are out of reach or are not of interest to you or if you just need reading copies, the following collected editions of Simpsons comic books are the most recent in-print editions and are the perfect alternative to get started right away with Simpsons. The following compilations are presented in a chronologically-based suggested reading order with softcover editions before any hardcover editions (unless the only in-print editions are hardcover--these are integrated into the softcover list).

Bongo's trade paperbacks do not follow the standard method of compiling sequential issues in numbered volumes. They jump around a little with the issue numbers that are compiled, and none of the compilations bear a volume number. This allows readers to pick up any trade paperback to begin. Please note: some 'volumes' may be out-of-print (OOP), and all are headed that way unless Harper Collins continues Bongo's previous trade paperback efforts.
*As an Amazon Associate, I earn from qualifying purchases. Full disclosure
1st Appearance
The first appearance of a character in comic book form is often the most valuable issue featuring that character. It's a nice place to get started in Simpsons, if it's within your budget.

The first comic strips based on The Simpsons appeared in 1991 in the magazine SIMPSONS ILLUSTRATED [1991], which was a companion magazine to the show. It contained a mix of articles and comic strips. (An annual issue of SIMPSONS ILLUSTRATED [1991], called SIMPSONS 1992 ANNUAL [1992] is comic book-sized and--although it contains mostly comics--it is still a mix of articles and comics.) The comic strips were popular though, and the one-shot SIMPSONS COMICS AND STORIES [1993] #1 was published for fans through Welsh Publishing Group. Due to the success of this comic book, Matt Groening and company created Bongo Comics specifically to publish Simpsons comic books. The first issue of the long-running flagship SIMPSONS COMICS from Bongo is a key issue, but not a first appearance.
SIMPSONS ILLUSTRATED [1991-MAG] #1: SPRING 1991 (1st appearance of Simpsons (in comic strip form))
SIMPSONS COMICS AND STORIES [1993] #1 (1st appearance of Simpsons (in comic book form))
Main Publication History
Series beginnings are always great places to get started in comic books. Here is the Main Publication History for Simpsons comic books. Reprint series published in countries outside the U.S. are not included in this list.
SIMPSONS ILLUSTRATED [1991-MAG] (8) (quarterly magazine accompanying the animated television show, mix of articles and comic strips)
SIMPSONS 1992 ANNUAL [1992] (annual issue associated with the 1991-1993 quarterly magazine)
SIMPSONS COMICS AND STORIES [1993] #1
SIMPSONS COMICS [1993] #1-245 (flagship title)
RADIOACTIVE MAN [1993] #1, 88, 216, 412, 679, 1000 (sporadic numbering and past-dated cover dates of 6 issues present the façade of a long publishing history)
ITCHY AND SCRATCHY COMICS [1993] #1-3
ITCHY AND SCRATCHY COMICS HOLIDAY HI-JINX SPECIAL [1994] #1 (indicia lists this as issue #4 of ITCHY AND SCRATCHY COMICS [1993])
BARTMAN [1993] #1-6
BARTMAN AND RADIOACTIVE MAN [1994] #1
KRUSTY COMICS [1995] #1-3
BART'S JOKE BOOK HERO ILLUSTRATED SPECIAL [1995] (cover title: BART SIMPSON'S JOKE BOOK)
TREEHOUSE OF HORROR [1995] #1-23 (annual series of Halloween-themed issues)
LISA COMICS [1995] #1
RADIOACTIVE MAN [1995] #1 (cover title: RADIOACTIVE MAN 80 PG. COLOSSAL)
SIMPSONS COMICS PRESENTS BART SIMPSON [2000] #1-100
RADIOACTIVE MAN [2000] #100, 222, 136, 4, 575, 106, 7-8, 197 (sporadic numbering and past-dated cover dates of 9 more issues continue the façade of a long publishing history)
FUTURAMA/SIMPSONS INFINITELY SECRET CROSSOVER CRISIS [2002] #1-2
SIMPSONS CLASSICS [2004-MAG] #1-30 (quarterly magazine)
FUTURAMA/SIMPSONS CROSSOVER CRISIS II [2005] #1-2
BONGO COMICS PRESENTS SIMPSONS SUPER SPECTACULAR [2005] #1-16
SIMPSONS WINTER WINGDING [2006] #1-10
SIMPSONS SUMMER SHINDIG [2007] #1-9
SIMPSONS COMICS TREASURE TROVE [2008-DIG] #1-4 (digest-sized reprint collections)
BONGO COMICS PRESENTS COMIC BOOK GUY: THE COMIC BOOK [2010] #1-5
SIMPSONS ILLUSTRATED [2012] #1-27
SIMPSONS ONE-SHOT WONDERS: RALPH WIGGUM COMICS [2012] #1
SIMPSONS ONE-SHOT WONDERS: BART SIMPSON'S PAL MILHOUSE [2012] #1
SIMPSONS ONE-SHOT WONDERS: LI'L HOMER [2012] #1
SIMPSONS ONE-SHOT WONDERS: MAGGIE [2012] #1
SIMPSONS ONE-SHOT WONDERS: PROFESSOR FINK [2013] #1
SIMPSONS ONE-SHOT WONDERS: MR. BURNS [2013] #1
SIMPSONS ONE-SHOT WONDERS: LISA [2013] #1
SIMPSONS ONE-SHOT WONDERS: DUFFMAN [2014] #1
SIMPSONS ONE-SHOT WONDERS: KANG AND KODOS [2014] #1
SIMPSONS COMICS EXPLOSION! [2014] #1-4
SIMPSONS ONE-SHOT WONDERS: MCBAIN [2014] #1
SIMPSONS ONE-SHOT WONDERS: JIMBO JONES [2015] #1
SIMPSONS ONE-SHOT WONDERS: GRAMPA [2015] #1
SIMPSONS ONE-SHOT WONDERS: KRUSTY THE CLOWN [2017] #1
MIGHTY MOE SZYSLAK [2018] #1
BARTMAN'S SPECTACULARY SUPER SECRET SAGA [2018]
CHIEF WIGGUM'S FELONIOUS FUNNIES [2018] #1
Key Issues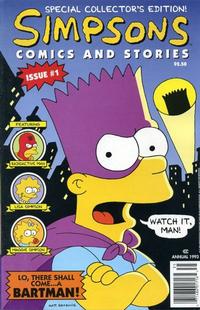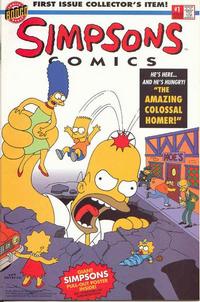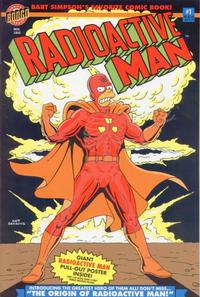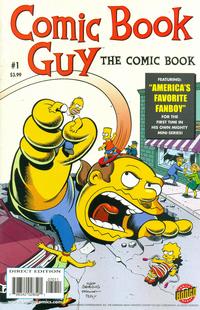 *As an eBay Partner, I earn from qualifying purchases. Full disclosure
SIMPSONS ILLUSTRATED [1991-MAG] #1: SPRING 1991 (1st appearance of Simpsons (in comic strip form))
SIMPSONS COMICS AND STORIES [1993] #1 (1st appearance of Simpsons (in comic book form))
SIMPSONS COMICS [1993] #1 (1st issue of this series)
RADIOACTIVE MAN [1993] #1 (1st issue of this series; origin of Radioactive Man)
BONGO COMICS PRESENTS COMIC BOOK GUY: THE COMIC BOOK [2010] #1 (1st issue of this series)