X-23 (Laura Kinney) is the clone daughter of Wolverine (James 'Logan' Howlett). She has similar powers to Wolverine: regenerative healing, superhuman senses and athletic abilities, and retractable adamantium-coated bone claws in her hands (and feet). For a short while from 2016-2018, X-23 adopted her (temporarily) deceased father, Logan's, super-hero name (Wolverine) and costume in an ongoing series titled ALL-NEW WOLVERINE [2016]. The character received a surge in popularity due to her appearance in the 2017 movie, LOGAN. With the return of Wolverine to the comic book Marvel Universe in 2018, Laura relinquished the name Wolverine and returned to her previous codename, X-23.
Related GSIs: APOCALYPSEOLD MAN LOGANWOLVERINE (JAMES 'LOGAN' HOWLETT)X-MEN
Related Tags: ALEX ROSS (CA)AVENGERS FAMILY TITLESCHRIS CLAREMONT (W)CLAREMONT/BYRNE CREATIVE TEAMDARK PHOENIX 40TH ANNIVERSARY VARIANT COVERS [2020]DAWN OF X [2019]FIRESTAR (ANGELICA JONES)FRANK CHO (CA)GREG LAND (CA)JIM LEE (CA)LEE X-MEN TRADING CARD VARIANT COVERS [2017]MARVEL BATTLE LINE VARIANT COVERS [2018]MARVEL FACSIMILE EDITIONSMARVEL HIDDEN GEM VARIANT COVERS [2018]MARVEL HOW-TO-DRAW VARIANT COVERS [2017]MARVEL LEGACY HEADSHOT VARIANT COVERS [2017]MARVEL LEGACY [2017]MARVEL LENTICULAR HOMAGE VARIANT COVERS [2017]MARVEL NEXTMARVEL NOW! [2012]MARVEL SKRULLS VARIANT COVERS [2019]MARVEL TRUE BELIEVERS REPRINTS [2015]MARVEL YOUNG BABY VARIANT COVERSMARVEL YOUNG GUNS VARIANT COVERS [2018]MARVEL'S GREATEST COMICS REPRINTS [2010]MARY JANE WATSON VARIANT COVERS [2017]PHOENIX VARIANT COVERS [2017]RESURRXION [2017]RETURN OF THE FANTASTIC FOUR VARIANT COVERS [2018]TERRY/RACHEL DODSON (CA)VENOM 30TH ANNIVERSARY VARIANT COVERS [2018]VENOMIZED VARIANT COVERS [2017]WOLVERINEWOLVERINE (LAURA KINNEY)X-23 (LAURA KINNEY)X-MENX-MEN FAMILY TITLES
Compilations
In modern comic publishing, it's common (and expected) for individual comic book issues to be collected into compilations of trade paperbacks and/or hardcovers, as well as other special compilations. Unlike the individual source issues, the collected editions typically stay in print for long periods and are less 'collectible.' If individual issues are out of reach or are not of interest to you or if you just need reading copies, the following collected editions of X-23 comic books are the most recent in-print editions and are the perfect alternative to get started right away with X-23. The following compilations are presented in a chronologically-based suggested reading order with softcover editions before any hardcover editions (unless the only in-print editions are hardcover--these are integrated into the softcover list).
*As an Amazon Associate, I earn from qualifying purchases. Full disclosure
1st Appearance
The first appearance of a character in comic book form is often the most valuable issue featuring that character. It's a nice place to get started in X-23, if it's within your budget. X-23's first appearance was technically on television. She appeared in season 3, episode 11 of the X-Men: Evolution animated television series. Her first comic book appearance was in the NYX [2003] mini-series from the same writer. Her origin was not told in that mini-series, but her powers and violent nature were introduced. More likely a curious coincidence than a decade in deliberate planning, a test tube of Logan's DNA appeared in one panel of WOLVERINE [1988] #80 and was labeled '#23.' A fascinating curiousity, for sure, but not likely to ever be the generally accepted 1st appearance of Laura Kinney, the clone child carried to term by Dr. Sarah Kinney. The appearance is listed here, however, as it will undoubtedly be an enduring point of debate among fans.
WOLVERINE [1988] #80 (dubious '1st appearance' from 1994...as a test tube labeled 'LOGAN X' and '#23')
NYX [2003] #3 (1st appearance of X-23)
Origin Story
The original presentation of an origin story or a retelling/recounting of it can be a good place to get started with a character or subject. X-23's origin was told in a six-issue mini-series published after her first appearance. A follow-up mini-series told the history between her origin and her first appearance.
X-23 [2005] #1-6 (INNOCENCE LOST; origin story)
X-23: TARGET X [2007] #1-6 (follow-up story between origin and first appearance)
X-23 [2010B] #1 (7-page text history of X-23 narrated by Wolverine)
ORIGINS OF MARVEL COMICS: X-MEN [2010] #1 (one-page origins of X-Men team members, including X-23)
X-23: INNOCENCE LOST MGC [2011] #1 (reprinting X-23 [2005] #1)
Main Publication History
Series beginnings are always great places to get started in comic books. Here is the Main Publication History for X-23 (Laura Kinney) comic books. X-23 was introduced in 2003 and soon became a member of the X-Men, working her way from student to Wolverine's replacement. The writing duo of Craig Kyle and Christopher Yost are credited with the creation of X-23, having written her inaugural television appearance and her origin story in comic books. The writing team crafted all of her consequential early history and included her in all of their stories as they moved from writing assignment to assignment within Marvel. The reigns passed to other writers, and X-23 matured into an important X-team member. Following the SECRET WARS storyline from 2015, X-23 took on the mantle of 'Wolverine' in the ALL-NEW WOLVERINE [2016] series but relenquished it when Logan returned from the 'dead.' She became a team member of the Fallen Angels in 2019's DAWN OF X wholesale X-title relaunch.
NYX [2003] #1-7 (1st appearance)
UNCANNY X-MEN [1981] #450-451, 455-460 (1st and subsequent appearances in X-Men)
X-MEN [2004] #165 (X-23 moves into the mansion)
X-23 [2005] #1-6 (origin series by Kyle and Yost)
NEW X-MEN [2004] #20-46 (team member)
X-23: TARGET X [2007] #1-6 (history between origin and 1st appearance by Kyle and Yost)
X-FORCE [2008] #1-28 (team member; written by Kyle and Yost)
X-FORCE: SEX AND VIOLENCE [2010] #1-3 (written by Kyle and Yost)
X-23 [2010A] #1 (one-shot)
X-23 [2010B] #1-21 (solo series)
AVENGERS ACADEMY [2010] #23-39 (team member)
AVENGERS ARENA [2013] #1-11 (participant)
ALL-NEW X-MEN [2013] #19-24, 33, 35
ALL-NEW WOLVERINE [2016] #1-35 (X-23 succeeds Logan as 'Wolverine' for a time)
X-23 [2018] #1-12 (flagship relaunch)
FALLEN ANGELS [2020] #1- (team member)
Selected Key Storylines
This section contains a curated list of some of the best storylines for X-23, any one of which can be a good place to get started.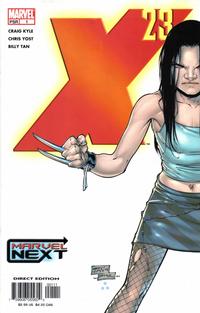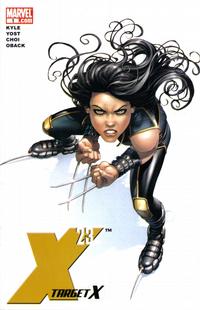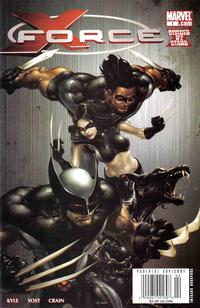 | | |
| --- | --- |
| 2005 | X-23 [2005] #1-6 (INNOCENCE LOST; origin story) |
| 2006 | NEW X-MEN [2004] #20-23 (CHILDHOOD'S END; a violent and awkward X-23 adjusts to 'mutant school') |
| 2007 | X-23: TARGET X [2007] #1-6 (TARGET X; history between origin and 1st appearance) |
| 2008 | X-FORCE [2008] #1-6 (ANGELS AND DEMONS; Cyclops reforms X-Force with the most violent members he can find) |
| 2011 | COLLISION storyline (cross-over storyline among X-23 [2010B] #8-9 and DAKEN: DARK WOLVERINE [2010] #8-9) |
| 2016 | ALL-NEW WOLVERINE [2016] #1-6 (THE FOUR SISTERS; sets up solid status quo as new 'Wolverine,' but incorporates confrontations with her past) |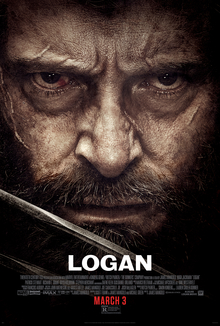 If you've enjoyed non-comic media for X-23, this section describes the comic book source material for some of the most popular non-comic media. WARNING: This section may contain spoilers!

The 2017 movie, LOGAN, introduced the movie-version of X-23. Her origin lines up very nicely with the comic book origin as presented in the mini-series, X-23 [2005] #1-6. There are subtle differences, but they are not substantial. Laura's test designation in the movie is X23-23, as there are many human offspring created from mutant genetic material in the X23 batch. In the comic book, her 'mother' is Dr. Sarah Kinney, one of the geneticists working on the project. Dr. Kinney uses a second copy of the X-chromosome in place of the Y-chromosome to make a breakthrough in 'cloning' Wolverine as X-23, is forced to carry the child herself to term, and smuggles the child out of the project to save her. In the movie, the mothers are captured women, and nurses smuggle the children out of the project. As Hugh Jackman has completed his role as Logan, X-23 is poised to take his place as the Wolverine in the movie universe, as she has done in the comic book universe with ALL-NEW WOLVERINE [2016] #1.
Key Issues
A key issue can be an acceptable place to get started with X-23, but they are more of a collector's checklist, as they can carry high price tags.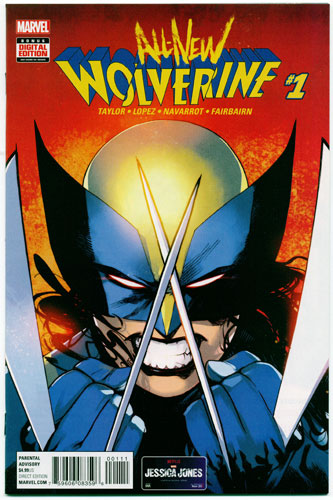 *As an eBay Partner, I earn from qualifying purchases. Full disclosure
NYX [2003] #3 (1st appearance of X-23)
UNCANNY X-MEN [1981] #450 (1st appearance of X-23 in X-Men)
AVENGERS ARENA [2013] #14 (popular cover; homage to WOLVERINE [1982] #1)
ALL-NEW WOLVERINE [2016] #1 (succeeds Logan as 'Wolverine')