Darth Vader is the iconic villain of the original Star Wars trilogy and needs little introduction, as he has permeated nearly every corner of modern culture. Originally a Jedi Knight prophesied to bring balance to the Force, Anakin Skywalker falls to the Dark Side of the Force and is instrumental in destroying the Jedi Order as the Dark Lord of the Sith, Darth Vader. Due to wounds suffered in his climactic battle with Obi-Wan Kenobi, his mentor and friend turned adversary, Vader is more machine than man. The cybernetics preserve his life and give him his iconic look with its immediately recognizable armor and helmet. In the last moments of Vader's life, he is apparently redeemed, when he embraces the Light Side once again and refuses to let his master, Emperor Palpatine, destroy his son, Luke Skywalker. But before that, he did some truly ruthless stuff, implied in the movies...but only seen in his comic book stories.
Related GSIs: BOBA FETTDOCTOR APHRASTAR WARS
Related Tags: ALAN MOORE (W)BOBA FETTDARK HORSE 100 SPECIAL EDITION VARIANT COVERSDARK HORSE/HASBRO COMIC PACK REPRINTS (57)DARTH VADERDOCTOR APHRAIDW STAR WARS ADVENTURESKIERON GILLEN (W)LAKESIDE TATTOOZ INSERT VARIANTSMARVEL FACSIMILE EDITIONSMARVEL TRUE BELIEVERS REPRINTS [2015]MARVEL YOUNG BABY VARIANT COVERSSTAR WARSSTAR WARS (LEGENDS)STAR WARS (NEW CANON) [2014]STAR WARS ACTION FIGURE VARIANT COVERSSTAR WARS EMPIRE STRIKES BACK VARIANT COVERS [2020] (36)STAR WARS GALACTIC ICON VARIANT COVERS [2018]STAR WARS GREATEST MOMENTS COVER VARIANTS [2019] (36)STAR WARS MOVIE ADAPTATIONSSTAR WARS PUZZLE PIECE VARIANT COVERS [2019] (27)TERRY/RACHEL DODSON (CA)VIDEO GAME TIE-IN
Compilations
In modern comic publishing, it's common (and expected) for individual comic book issues to be collected into compilations of trade paperbacks and/or hardcovers, as well as other special compilations. Unlike the individual source issues, the collected editions typically stay in print for long periods and are less 'collectible.' If individual issues are out of reach or are not of interest to you or if you just need reading copies, the following collected editions of Darth Vader comic books are the most recent in-print editions and are the perfect alternative to get started right away with Darth Vader. The following compilations are presented in a chronologically-based suggested reading order with softcover editions before any hardcover editions (unless the only in-print editions are hardcover--these are integrated into the softcover list).
*As an Amazon Associate, I earn from qualifying purchases. Full disclosure
1st Appearance
The first appearance of a character in comic book form is often the most valuable issue featuring that character. It's a nice place to get started in Darth Vader, if it's within your budget. Of only trivial interest perhaps, the first issue of STAR WARS [1977] was published on 12 Apr 1977, over a month prior to the 25 May 1977 movie debut.
STAR WARS [1977] #1 (1st appearance of Star Wars; 1st appearance of Darth Vader)
Origin Story
The original presentation of an origin story or a retelling/recounting of it can be a good place to get started with a character or subject. Darth Vader does not have a typical superhero 'origin story.' His origin basically is the enire three movies that make up the Prequel Trilogy.
Main Publication History
Series beginnings are always great places to get started in comic books. Here is the Main Publication History for Darth Vader comic books. Darth Vader is one of the most important characters in the Star Wars saga and has had a virtual multitude of comic book appearances. While he is a prime plot device in many stories that take place between Order 66 and The Return of the Jedi, there are suprisingly few stories centered on him. Dark Horse proved Vader could be the star of his own story with the STAR WARS: VADER'S QUEST [1999] mini-series, but the wildly popular PURGE [2006] one-shot was a bigger hit. Dark Horse followed up with more Purge tales and then a series of mini-series carrying Vader's name. This paved the way for Marvel to grant him his own self-titled, ongoing series, DARTH VADER [2015]. This series masterfully explores the time right after Episode IV, and a follow-up ongoing series explores the time right after Episode III. The list in this section contains only series where Darth Vader was a key, 'headline' character, but contains both Legends and New Canon series.
Secondary Publication History
In addition to his Main Publication History, Darth Vader has made a multitude of appearances in Star Wars comic books. While there is little utility to be gained in an exhaustive list of these appearances, here are a few small gems hidden among his countless cameos you could hunt down to get started in Darth Vader comic books. Darth Vader plays a fairly significant role throughout the STAR WARS: DARK TIMES [2006] series and its three follow-on mini-series (two are listed in the Main Publication History), as well as the STAR WARS TALES [1999] anthology series. Both of these series are Legends, but they are definitey worth checking out to get more Darth Vader among some other quality Star Wars material.
CLASSIC STAR WARS: DEVILWORLDS [1996] #1 (contains a 6-page Darth Vader story by Alan Moore (Legends))
STAR WARS TALES [1999] #1-2 (EXTINCTION, hunts down a Jedi (Legends))
STAR WARS TALES [1999] #3-24 (sporadic appearances throughout the rest of this anthology series (Legends))
STAR WARS: EMPIRE [2002] #14 (THE SAVAGE HEART, in a unique tale, Vader becomes a wild animal pack leader (Legends))
STAR WARS: EMPIRE [2002] #19 (TARGET: VADER, becomes a target himself while strong-arming underworld contacts for Alliance information (Legends))
STAR WARS: DARK TIMES [2006] #1-17 (appearances throughout this series (Legends))
STAR WARS ADVENTURES [2009-DIG] VOL 04: THE WILL OF DARTH VADER (reluctantly teams with a wisecracking smuggler to destroy a Rebel base (Legends))
STAR WARS ADVENTURES: TALES FROM VADER'S CASTLE [2018] #1-5 (spooky anthology stories connected to Vader's castle)
Selected Key Storylines
This section contains a curated list of some of the best storylines for Darth Vader, any one of which can be a good place to get started. Entries here may be from series where Darth Vader was not the headline character of the series. Also, entries in this section come from both Legends and New Canon.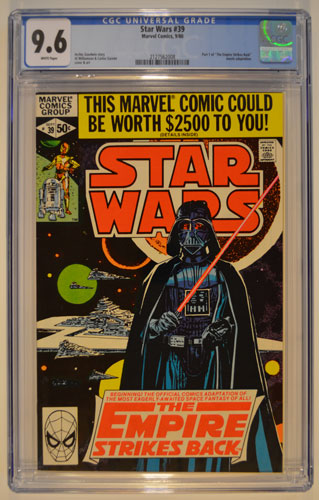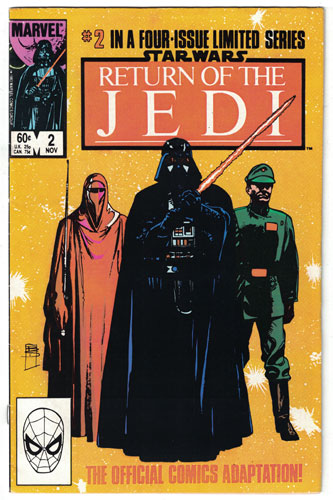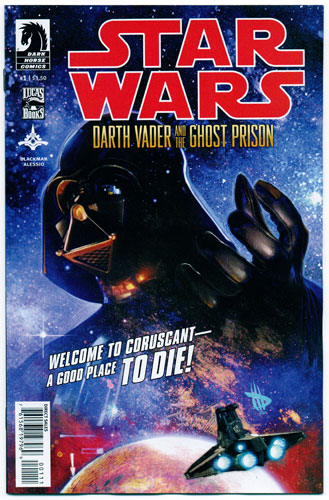 | | |
| --- | --- |
| 1977 | STAR WARS [1977] #1-6 (A New Hope adaptation, classic Original Trilogy saga material) |
| 1980 | STAR WARS [1977] #39-44 (Empire Strikes Back adaptation, classic Original Trilogy saga material) |
| 1983 | STAR WARS: RETURN OF THE JEDI [1983] #1-4 (Return of the Jedi adaptation, classic Original Trilogy saga material) |
| 1999 | STAR WARS: VADER'S QUEST [1999] #1-4 (quest to find the pilot who destroyed the first Death Star (Legends)) |
| 2012 | STAR WARS: DARTH VADER AND THE GHOST PRISON [2012] #1-5 (fantastically dark story of a military overthrow attempt put down by Vader (Legends)) |
| 2015 | DARTH VADER [2015] #1-6 (VADER!, masterful New Canon introduction from Kieron Gillen (New Canon)) |
| 2016 | STAR WARS: VADER DOWN (fast-paced crossover storyline where Alliance presses all against a crashlanded and solitary Vader (New Canon)) |
| 2017 | DARTH VADER [2017] #1-6 (THE CHOSEN ONE, another great start to a strong solo series from Charles Soule (New Canon)) |
If you've enjoyed non-comic media for Darth Vader, this section describes the comic book source material for some of the most popular non-comic media. But, with Star Wars, movies and other media are typically not produced from comic source material. Comic book adaptations and comic book spin-offs are produced from movies and other media. See the Selected Key Storylines section for the Original Trilogy movie adaptations, in which Darth Vader appears.
Key Issues
A key issue can be an acceptable place to get started with Darth Vader, but they are more of a collector's checklist, as they can carry high price tags.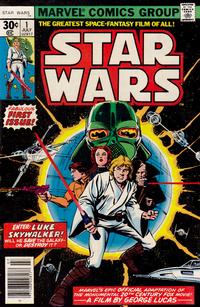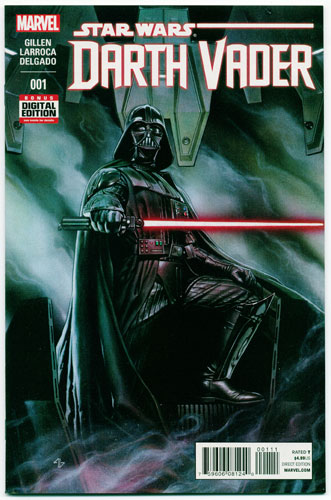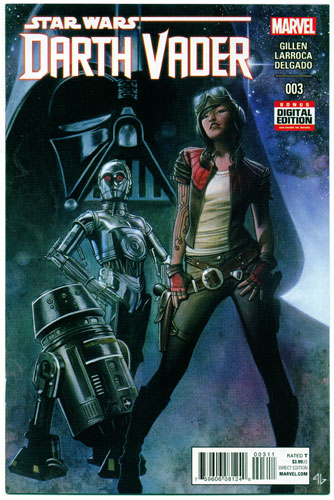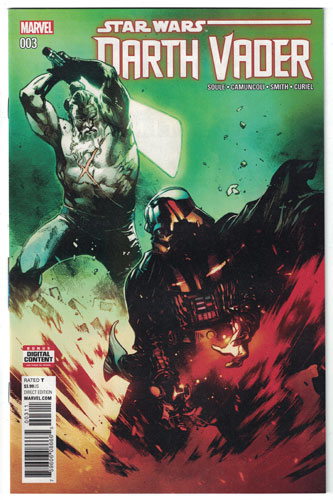 *As an eBay Partner, I earn from qualifying purchases. Full disclosure
STAR WARS [1977] #1 (1st appearance of Star Wars; 1st appearance of Darth Vader)
DARTH VADER [2015] #1 (1st issue of this series)
DARTH VADER [2015] #3 (1st appearances of Doctor Aphra, 0-0-0 (Triple Zero), BT-1 (Bee Tee))
DARTH VADER [2017] #1 (1st issue of this series)
DARTH VADER [2017] #3 (1st appearance of Kirak Infil'a)