Doctor Aphra (Chelli Lona Aphra) is a mostly unscrupulous archaeologist with a specialty in droid and weapons technologies in the New Canon of the Star Wars Universe. Introduced in DARTH VADER [2015] #3, Vader hired her shortly after the Battle of Yavin to acquire a secret army of his own battle droids and other sundry, covert assignments. She fell out of favor with the Sith Lord at the completion of her tasks and was assumed dead upon Vader's order. She's an intriguing addition to the Star Wars cast. Created by writer Kieron Gillen, she was conceived as a sort of opposite of Indiana Jones. Indy seeks historically significant artifacts for academic purposes, while the equally knowledgeable Doctor Aphra seeks objects for profit. The character exists primarily in comic books, but has had a short story and a Hasbro action figure.
Related GSIs: BOBA FETTDARTH VADERSTAR WARS
Related Tags: ADAM HUGHES (CA)ALEX ROSS (CA)AMERICAN GOTHIC (PAINTING) COVER HOMAGEDARTH VADERDIAMOND RETAILER SUMMIT 2020 LIMITED VARIANT COVERS [2020] (5)DOCTOR APHRAFRANK CHO (CA)GREG LAND (CA)KIERON GILLEN (W)MARVEL TRUE BELIEVERS REPRINTS [2015]STAR WARSSTAR WARS (NEW CANON) [2014]STAR WARS 40TH ANNIVERSARY VARIANT COVERSSTAR WARS ACTION FIGURE VARIANT COVERSSTAR WARS GALACTIC ICON VARIANT COVERS [2018]STAR WARS GREATEST MOMENTS COVER VARIANTS [2019] (36)TERRY/RACHEL DODSON (CA)
Compilations
In modern comic publishing, it's common (and expected) for individual comic book issues to be collected into compilations of trade paperbacks and/or hardcovers, as well as other special compilations. Unlike the individual source issues, the collected editions typically stay in print for long periods and are less 'collectible.' If individual issues are out of reach or are not of interest to you or if you just need reading copies, the following collected editions of Doctor Aphra comic books are the most recent in-print editions and are the perfect alternative to get started right away with Doctor Aphra. The following compilations are presented in a chronologically-based suggested reading order with softcover editions before any hardcover editions (unless the only in-print editions are hardcover--these are integrated into the softcover list).

You might as well read the whole first DARTH VADER series, as Doctor Aphra in introduced there, has a support role then a small backup role to the end...plus, Vader's story is great!
*As an Amazon Associate, I earn from qualifying purchases. Full disclosure
1st Appearance
The first appearance of a character in comic book form is often the most valuable issue featuring that character. It's a nice place to get started in Doctor Aphra, if it's within your budget. Although her name was mentioned in issue #2, Aphra first appeared in DARTH VADER [2015] #3 along with her assassin droids, Triple-Zero and Bee-Tee.
DARTH VADER [2015] #3 (1st appearances of Doctor Aphra, 0-0-0 (Triple Zero), BT-1 (Bee Tee))
Origin Story
The original presentation of an origin story or a retelling/recounting of it can be a good place to get started with a character or subject. The 'origin' of a superhero is typically the event or circumstances surrounding how they gained their powers and/or began fighting crime. Doctor Aphra is not a superhero character, however. She was created by writer Kieron Gillen and introduced in the first story arc of the DARTH VADER [2015] series, where we got the first bits of information about her. The first story arc in her self-titled series, DOCTOR APHRA [2017] #1-6, introduced her father and we got a few more bits about her history. But, aside from short bites, Doctor Aphra's origin is like any other person's--more of a long ongoing story all its own.
Main Publication History
Series beginnings are always great places to get started in comic books. Here is the Main Publication History for Doctor Aphra comic books. Doctor Aphra was introduced in the pages of the DARTH VADER [2015] series. She appeared in the VADER DOWN crossover story arc and the REBEL JAIL story arc in the STAR WARS [2015] series before gaining her own self-titled series with associated annual.
Key Issues
A key issue can be an acceptable place to get started with Doctor Aphra, but they are more of a collector's checklist, as they can carry high price tags. The issues listed in this section are predominantly non-variants (i.e. main covers).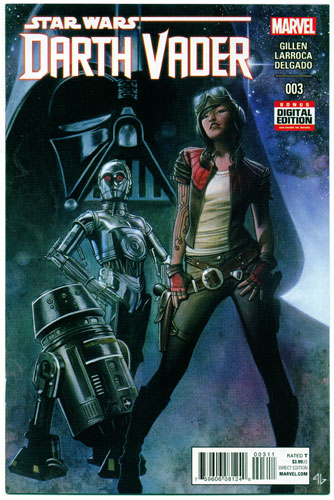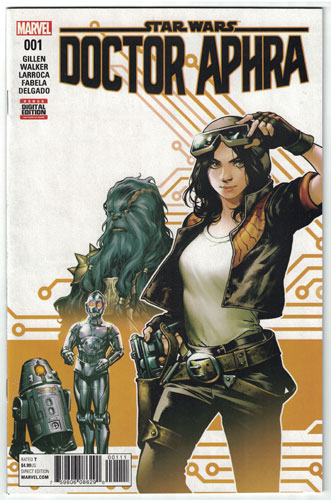 *As an eBay Partner, I earn from qualifying purchases. Full disclosure
DARTH VADER [2015] #3 (1st appearances of Doctor Aphra, 0-0-0 (Triple Zero), BT-1 (Bee Tee))
STAR WARS: DOCTOR APHRA [2017] #1 (1st issue of this series)