The current cultural and Internet phenomenon that is MY LITTLE PONY (MLP) is only the latest of several revamps over the franchise's history. My Pretty Pony was a single pony introduced in 1981 by Hasbro with much of today's iconic aspects, and quickly morphed into the My Little Pony toy line in 1982. This toy line, now dubbed G1 (for Generation One), enjoyed merchandising success throughout the 80's, accompanied by a few animated cartoons (and comic books in the UK), but was discontinued in the mid-90's. A short-lived revamp from 1997-1999, marketed then as 'Friendship Garden' and now dubbed G2, was unsuccessful in the United States, but continued for a short while afterwards with some success in Europe. This generation introduced unicorn ponies, ponies with clip-on wings, and baby ponies. The G3 toy line was produced from 2003-2009. This incarnation was targeted at younger audiences than previous and was accompanied by a series of direct-to-video animated films. The latest relaunch in 2010 began with a hit animated television series with a toy line following. This generation is often referred to as G4 or 'Friendship is Magic' and is set in the fictional location of Equestria with its main characters of Twilight Sparkle, Spike, Rainbow Dash, Pinkie Pie, Applejack, Rarity and Fluttershy. Equestria is inhabited by four kinds of ponies: earth ponies, unicorns, pegasi and winged unicorns called 'alicorns.' G4 has seen unexpected popularity with adult collectors, including a subset of male fans called 'bronies.' This era also has an anthropomorphic spin-off, subtitled Equestria Girls. The MLP franchise is alive and strong with its animated television series, comic books, all sorts of other merchandise and a 2017 theatrical movie release.
Related GSIs: RICK AND MORTY
Related Tags: CROSS-PROPERTY CROSSOVERSHALLOWEEN COMICFEST (HCF)IDW ARTIST'S EDITION VARIANT COVERS [2017]MY LITTLE PONYTRANSFORMERS
Compilations
In modern comic publishing, it's common (and expected) for individual comic book issues to be collected into compilations of trade paperbacks and/or hardcovers, as well as other special compilations. Unlike the individual source issues, the collected editions typically stay in print for long periods and are less 'collectible.' If individual issues are out of reach or are not of interest to you or if you just need reading copies, the following collected editions of My Little Pony comic books are the most recent in-print editions and are the perfect alternative to get started right away with My Little Pony. The following compilations are presented in a chronologically-based suggested reading order with softcover editions before any hardcover editions (unless the only in-print editions are hardcover--these are integrated into the softcover list).

The omnibus versions of the trade paperbacks below are just compilations of the same series as the respective non-omnibus versions with more issues per trade. The following list is huge because nearly everything from IDW is still in print as a compilation!
*As an Amazon Associate, I earn from qualifying purchases. Full disclosure
1st Appearance
The first appearance of a character in comic book form is often the most valuable issue featuring that character. It's a nice place to get started in My Little Pony, if it's within your budget.
MY LITTLE PONY: FRIENDSHIP IS MAGIC [2012] #1 (1st appearance of MLP (G4))
Main Publication History
There were no MLP comic books released in the United States until Generation Four (G4). IDW has had the license to publish MLP comics, and it is one of the strongest of their various licensed properties, typically with multiple offerings each month. MLP is not part of IDW's shared Hasbro Universe based on mulitple Hasbro properties. The UK published a long-running series (224 issues) and another lengthy series (51 issues) of comics associated with MLP (G1) from 1984-1994. Everything in the following list is G4.
MY LITTLE PONY: FRIENDSHIP IS MAGIC [2012] #1- (flagship ongoing series)
MY LITTLE PONY: MICRO SERIES [2013] #1-10
MY LITTLE PONY [2013-DIG] #1- (digest-sized adaptations of animated television show episodes)
MY LITTLE PONY ANNUAL 2013 [2013]
MY LITTLE PONY: FRIENDS FOREVER [2014] #1-38 (long-running, second ongoing series)
MY LITTLE PONY ANNUAL 2014 [2014]
MY LITTLE PONY: FIENDSHIP IS MAGIC [2015] #1-5 (mini-series)
MY LITTLE PONY HOLIDAY SPECIAL 2015 [2015]
MY LITTLE PONY ANNUAL 2017 [2017]
MY LITTLE PONY: DEVIATIONS [2017]
MY LITTLE PONY: LEGENDS OF MAGIC [2017] #1-12 (maxi-series)
MY LITTLE PONY: THE MOVIE PREQUEL [2017] #1-4 (mini-series)
MY LITTLE PONY: MOVIE ADAPTATION [2017-TPB] (movie adaptation; first time in print)
MY LITTLE PONY HOLIDAY SPECIAL 2017 [2017]
MY LITTLE PONY: LEGENDS OF MAGIC ANNUAL 2018 [2018]
MY LITTLE PONY: PONYVILLE MYSTERIES [2018] #1- (likely maxi-series)
MY LITTLE PONY: NIGHTMARE KNIGHTS [2018] #1-5
MY LITTLE PONY: IDW 20/20 [2019]
MY LITTLE PONY: SPIRIT OF THE FOREST [2019] #1-3 (mini-series)
MY LITTLE PONY: THE MANGA [2019-DIG] #1- (kid-friendly original manga stories)
MY LITTLE PONY: THE FEATS OF FRIENDSHIP [2019] #1-3 (mini-series)
MY LITTLE PONY HOLIDAY SPECIAL [2019]
MY LITTLE PONY EQUESTRIA GIRLS: CANTERLOT HIGH--MARCH RADNESS [2020]
TRANSFORMERS/MY LITTLE PONY [2020] #1-4
Secondary Publication History
If you've already enjoyed some of the series listed in the Main Publication History above, series from this secondary publication list are very good places to further your exploration. Everything in the following list is G4.
MY LITTLE PONY COVER GALLERY [2013] #1
MY LITTLE PONY ART GALLERY [2013]
MY LITTLE PONY: FRIENDS FOREVER--HALLOWEEN COMICFEST 2014 [2014]
MY LITTLE PONY: EQUESTRIA GIRLS HOLDIAY SPECIAL 2014 [2014]
MY LITTLE PONY: HALLOWEEN COMICFEST [2016]
If you've enjoyed non-comic media for My Little Pony, this section describes the comic book source material for some of the most popular non-comic media. But, with My Little Pony, movies and other media are typically not produced from comic source material. Comic book adaptations and comic book spin-offs are produced from movies and other media.
Key Issues
A key issue can be an acceptable place to get started with My Little Pony, but they are more of a collector's checklist, as they can carry high price tags.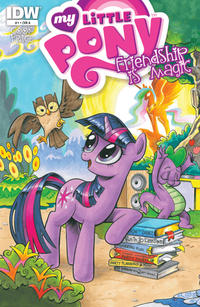 *As an eBay Partner, I earn from qualifying purchases. Full disclosure
MY LITTLE PONY: FRIENDSHIP IS MAGIC [2012] #1 (1st appearance of MLP (G4))