PAPER GIRLS is a 2015 Image, creator-owned comic book series from writer Brian K. Vaughn and artist Cliff Chiang that follows four teenage paper girls from the 1980s who get caught up in a war between time travelers. The series won two Eisner awards in 2016, one for Best New Series and one for Best Penciller/Inker. And while the genre is clearly science fiction on the surface, there is a deeper story portraying the friendship between young girls and the drama of coming-of-age.
Related Tags: BRIAN K. VAUGHAN (W)EISNER AWARD NOMINEEEISNER AWARD WINNERIMAGE FIRSTS REPRINTS [2010]
Compilations
In modern comic publishing, it's common (and expected) for individual comic book issues to be collected into compilations of trade paperbacks and/or hardcovers, as well as other special compilations. Unlike the individual source issues, the collected editions typically stay in print for long periods and are less 'collectible.' If individual issues are out of reach or are not of interest to you or if you just need reading copies, the following collected editions of Paper Girls comic books are the most recent in-print editions and are the perfect alternative to get started right away with Paper Girls. The following compilations are presented in a chronologically-based suggested reading order with softcover editions before any hardcover editions (unless the only in-print editions are hardcover--these are integrated into the softcover list).
*As an Amazon Associate, I earn from qualifying purchases. Full disclosure
1st Appearance
The first appearance of a character in comic book form is often the most valuable issue featuring that character. It's a nice place to get started in Paper Girls, if it's within your budget.
PAPER GIRLS [2015] #1 (1st appearance of Paper Girls)
Origin Story
The original presentation of an origin story or a retelling/recounting of it can be a good place to get started with a character or subject. The 'origin' of a superhero/villain is typically the event or circumstances surrounding how they gained their powers and/or began fighting/committing crime. Paper Girls does not have a typical superhero-style origin story. The basic premise of the series is established in the first story arc.
Main Publication History
Series beginnings are always great places to get started in comic books. Here is the Main Publication History for Paper Girls comic books. As with most creator-owned, Image series, the story is contained in a single ongoing series and subsequently collected into trade paperbacks.
Key Issues
A key issue can be an acceptable place to get started with Paper Girls, but they are more of a collector's checklist, as they can carry high price tags. The issues listed in this section are predominantly non-variants (i.e. main covers).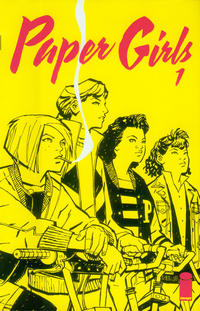 *As an eBay Partner, I earn from qualifying purchases. Full disclosure
PAPER GIRLS [2015] #1 (1st appearance of Paper Girls)