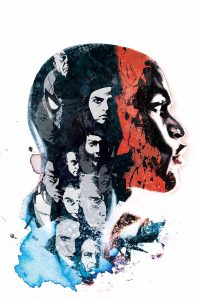 This one looks very interesting:
"Professional basketball player and world renowned celebrity, Morris Sackett, gains extraordinary abilities, at the grave cost of his own mortal body. Imbued with the ability to jump from person to person like a ghost, he controls the bodies and memories of those he inhabits. With his own body destroyed, the one-time superstar athlete must rely on others to survive. The saga of the newest Marvel Inhuman MOSAIC begins here!"
I always was a fan of the Quantum Leap television show and the Denzel Washington movie, Fallen, mostly for how they represent the infinite possibilities of jumping from person to person. Roger Ebert wrote in a mixed review of the film, "the idea is better than the execution," so I'm excited to see how Marvel executes this idea. What I'm not looking for is another Deadman.