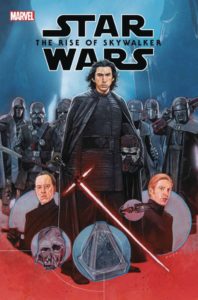 This will likely include the deleted and extended scenes from the novelization!
"INCLUDES UNREVEALED STORY. FROM BEYOND THE OUTER RIM, AN OLD ENEMY RETURNS. REY and the RESISTANCE set out on a desperate quest to stop the threat of the FINAL ORDER. Can they succeed where Jedi Master LUKE SKYWALKER himself failed? And what is KYLO REN'S real goal in partnering with the resurrected PALPATINE? Jody Houser (TIE FIGHTER) and Will Sliney (THE RISE OF KYLO REN) adapt the landmark Skywalker saga, featuring extended and deleted scenes."
Interested in Getting Started In STAR WARS comic books? Check out our guide here.
Related shopping tags: STAR WARS, STAR WARS (NEW CANON) [2014], STAR WARS MOVIE ADAPTATIONS