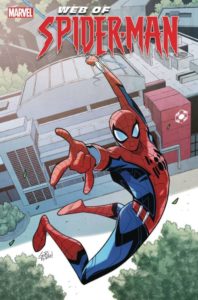 If you enjoyed the Marvel Cinematic Universe (MCU) relationship between Spider-Man and Iron Man, you'll most likely enjoy this little mini-series!
"Peter Parker. Spider-Man. Scientist. Troublemaker? Thanks to none other than Tony Stark, a new scientific research station for the teenage heroes of the Marvel Universe has just been completed – and Spider-Man just got an invitation to join. Working alongside some of your favorite faces from the MU and a whole bunch of awesome new gadgets, and with Iron Man keeping an eye on the them, surely everything's going to go great for the heroes, right? … Right? Face front, True Believers, and treat yourself to this first issue in an adventure of the WORLDWIDE ENGINEERING BRIGADE."
Interested in Getting Started In SPIDER-MAN (PETER PARKER) comic books? Check out our guide here.
Related shopping tags: SPIDER-MAN, SPIDER-MAN (PETER PARKER), SPIDER-MAN FAMILY TITLES