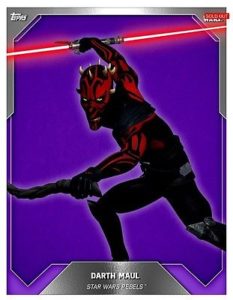 With only 15 days until Rogue One: A Star Wars Story is released, I've just had the craziest idea: Because the rebels cartoon potentially foreshadowed Maul gaining knowledge that Obi-wan was still alive, what are the odds of an interlude in Rogue One that Maul shows up on Tatooine to confront him?
When Maul and Obi-wan meet again, it will most likely be on Tatooine, unless we find out that Obi-wan has made sojourns away from watching over his charge, young Luke Skywalker. The Star Wars comic series is telling one-off episodes of the tales of Obi-wan, but, so far, they all take place on Tatooine. I doubt Rebels has the status to portray such an immense plot sequence like a fight between Maul and Obi-wan, but a stand-alone movie like Rogue One would be the perfect spot for such a massive, crowd-pleasing, Easter egg surprise of the century, on par with the "I am your father" moment. If Darth Vader gets a cameo in Rogue One, why not Obi-wan?
Anyway, even if Maul doesn't show up on Tatooine in Rogue One. I'm betting the movie will contain an equally cheered interlude with a hooded figure on a sandy world maybe watching over a young boy looking up at the sky and realizing the "time" is close. The waiting is almost over. Destinies will begin to unfold.
I've previously espoused my belief that Supreme Leader Snoke is a Dark Side user descended from the "school" of Maul. Another fight between Maul and Obi-wan would cement Maul's obviously developing importance in the Saga. A more final death by Obi-wan's lightsaber would be the only ending for Maul that carries enough significance for Maul's character now.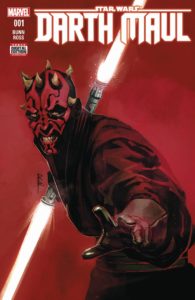 By the way, Darth Maul is getting his own comic book series in a few months. No real details yet, but this will be canon storyline.
It's surely a GREAT time to be a Star Wars fan!