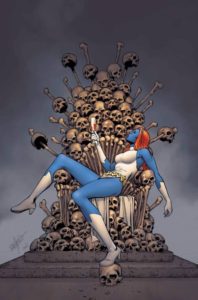 Cool cover. It reminds me of the Iron Throne from Game of Thrones–but with bones…hehe, it's Game of Bones.
"A MONSTER IS LOOSE IN LONDON. HIS NAME IS LOGAN. Psylocke, Bishop and Angel are all that stand between a mind-poisoned Logan and a mountain of corpses. Rogue and Gambit consider their options. Fantomex and Mystique get the party started. And somewhere, the Shadow King laughs and laughs… Rated T+"
Interested in Getting Started In X-MEN comic books? Check out our guide here.
Related shopping tags: X-MEN, X-MEN FAMILY TITLES