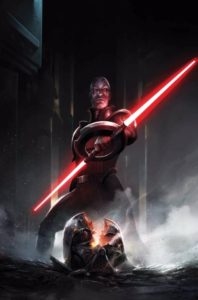 The newest Darth Vader series brings in the Inquisitors! I'm excited to maybe get more background on this group of Force users, a sort of police force for the Emperor. They do more menial tasks, those not up to the level of a Sith Lord! Hey, I just had a thought. What if Supreme Leader Snoke is a former Inquisitor?!?
"Darth Vader…meet THE INQUISITORIUS."
Interested in Getting Started In STAR WARS comic books? Check out our guide here.
Related shopping tags: DARTH VADER, STAR WARS, STAR WARS (NEW CANON) (2014)