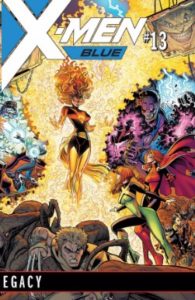 Hey, Marvel Fans, it's X-MEN: BLUE #13! Wait…wha?!? How come no legacy UNCANNY X-MEN numbering?!? Legacy launches with a bang this month, as Marvel returns to legacy numbering with all of their long-running titles. This is a major jumping-on point for fans, both new and old.
"MOJO WORLDWIDE, Part 2. The X-Men may have bitten off more than they can chew when the Mojoverse continues its bizarre invasion of MANHATTAN. JEAN GREY and her team fight side by side with KITTY PRYDE and her team…but can MOJO be defeated when he's got the X-Men's greatest hits weaponized against them? Or will an unlikely alley come to the rescue? PLUS: Includes 3 bonus MARVEL PRIMER PAGES. Story by Robbie Thompson and art by Mark Bagley. Rated T+"
Interested in Getting Started In X-MEN comic books? Check out our guide here.
Related shopping tags: ART ADAMS (CA), MARVEL LEGACY (2017), X-MEN, X-MEN FAMILY TITLES