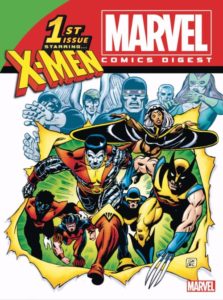 The X-Men get the digest treatment from Archie Comics with issue #4 of MARVEL COMICS DIGEST [2017-DIG]. The cover image shown is from GIANT-SIZE X-MEN [1975] #1. The solicitation doesn't say that there's a reprint of GIANT-SIZE X-MEN [1975] #1 in there, but if there is…it is definitely worth picking this issue up. And the fact that Archie is only doing a single printing on all these digests, makes them more collectible in the long run.
"Marvel Comics' best-selling heroes are back in the ever-popular digest format. This fourth issue spotlights the X-Men. This is a can't-miss collector's item that will only be printed once."
Interested in Getting Started In X-MEN comic books? Check out our guide here.
Related shopping tags: X-MEN, X-MEN FAMILY TITLES