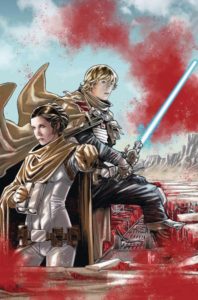 Holy awesome! Anyone else who is chomping at the bit for the next Star Wars movie will want to pick this one-shot up. Apparently it has some backstory about Crait, a world which will be featured in THE LAST JEDI! I'm absolutely sure the info won't be critical to enjoying the film, but come on. If you're a super-fan, this is a must-have! Checchetto's cover is gorgeous to boot.
"This December, the soon-to-be thrilling Star Wars: The Last Jedi rocks movie screens across the world…and the reverberations are felt all around a galaxy far, far away. First up, learn the secret of the mineral planet Crait. Long before it became a battleground between the Resistance and the First Order, Luke Skywalker and Leia Organa led the Rebellion there in search of a new home. From writers Ben Acker and Ben Blacker (Star Wars Join the Resistance) and artist Marco Checchetto (Star Wars: Shattered Empire) comes the backstory to this winter's biggest adventure. Rated T"
Interested in Getting Started In STAR WARS comic books? Check out our guide here.
Related shopping tags: STAR WARS, STAR WARS (NEW CANON) (2014)