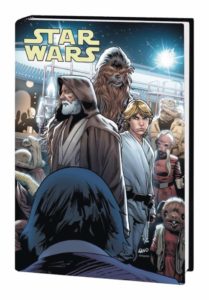 If you've been chasing the Star Wars 40th Anniversary Variant covers all year, you're awesome and you may be keenly interested in this slick hardcover that apparently does all the hard work for the lazy folk who've just been sitting around, biding their time, until this slick hardcover came out. You're better than that, and I applaud you, but you still may want one of these so you can keep all your variant covers archived away from the light of day.
"Celebrate the 40th anniversary of Star Wars: A New Hope. This deluxe edition collects all of Marvel's 40th anniversary cover art retelling the story of A New Hope – as illustrated by some of the industry's most gifted artists, including Stuart Immonen, Adi Granov, Kevin Wada, Terry Dodson, Stephanie Hans and more. Extras include sketches and pencils, commentary, essays and the original Star Wars #1 from 1977 that began Marvel's adaptation of the saga. Rated T"
Interested in Getting Started In STAR WARS comic books? Check out our guide here.
Related shopping tags: STAR WARS, STAR WARS MOVIE ADAPTATIONS