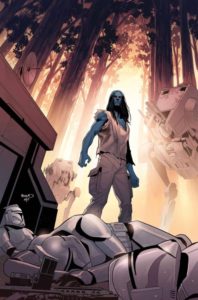 Wow, this is exciting! Thrawn is one of my favorite Star Wars characters, and Zahn's latest novel in the New Canon era is absolutely outstanding! Any true Star Wars fan MUST have this series!
"One of the most cunning and ruthless warriors in the history of the Star Wars Universe, Grand Admiral Thrawn is back with a six-issue miniseries about how he became one of the most feared military tacticians in a galaxy far, far away. Written by Jody Houser (ROGUE ONE ADAPTATION) and drawn by Luke Ross (STAR WARS: DARTH MAUL, STAR WARS: THE FORCE AWAKENS ADAPTATION), follow the comic adaptation of Timothy Zahn's New York Times best-selling novel about Thrawn's rise in the Imperial ranks. Rated T"
Interested in Getting Started In STAR WARS comic books? Check out our guide here.
Related shopping tags: STAR WARS, STAR WARS (NEW CANON) (2014)