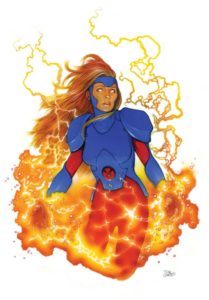 Another ongoing X-Men title! The team is a perfect mix of old heads and greenhorns: Jean Grey, Nightcrawler, Namor, Wolverine (Laura Kinney), a Wakandan mutant named Gentle, one of Laura's clone sisters named Gabby, and a brand new character named Trinary. Jean Grey leads the new team of X-Men in a story that will feature "new uniforms, a new team headquarters, and exciting new characters," as well as "dynamic hero moments, great character interactions, and a surprise villain at the end." I'm actually pretty excited for this one. I really like how they've mixed seasoned X-Men with fresh meat.
"The Hate Machine Part 1 THE FIRST SENSATIONAL ARC OF AN ALL-NEW TEAM OF X-MEN STARTS HERE. JEAN GREY is back. Returned to a world she doesn't recognize, the First Lady of the X-MEN gathers an unlikely team – NIGHTCRAWLER, NAMOR and LAURA KINNEY (A.K.A. ALL-NEW WOLVERINE) – to face an evil that threatens to tear down XAVIER's dream by any means necessary. Rated T+"
Interested in Getting Started In X-MEN comic books? Check out our guide here.
Related shopping tags: MARVEL LEGACY (2017), X-MEN, X-MEN FAMILY TITLES