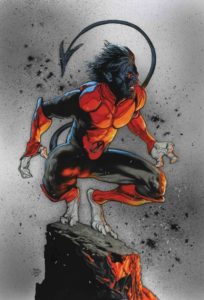 Whoa, this is one of the coolest Nightcrawler covers I've ever seen!
"THE HATE MACHINE Part 2 JEAN GREY and her team must infiltrate a top-secret compound in order to save a mutant they've never met. They'll have to avoid guards armed with guns, protestors armed with hate and sentinels armed with…well, slightly larger and more dangerous guns than the guards. All in a day's work for the newest X-Men team. Rated T+"
Interested in Getting Started In X-MEN comic books? Check out our guide here.
Related shopping tags: MARVEL LEGACY (2017), WHERE'S WOLVERINE? 'POST-CREDITS SCENES' (2018), X-MEN, X-MEN FAMILY TITLES