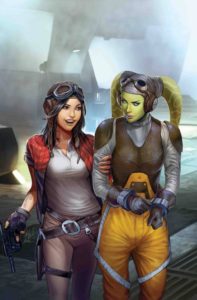 Wow! Rebels fans celebrate! This issue of DOCTOR APHRA guest-stars none other than Hera Syndulla herself. Ever wonder what she was up to between Rebels and, well, the rest of the Star Wars Saga? Let's find out!
"'REMASTERED' CONTINUES. Doctor Aphra is being blackmailed by Triple-Zero to run missions for his underground crime syndicate – but that doesn't mean she can't cause trouble and have fun along the way. Sometimes that fun means infiltrating Rebellion training grounds…and sometimes that trouble means crossing paths with famed rebel Hera Syndulla herself. Rated T"
Interested in Getting Started In STAR WARS comic books? Check out our guide here.
Related shopping tags: STAR WARS, STAR WARS (NEW CANON) (2014)