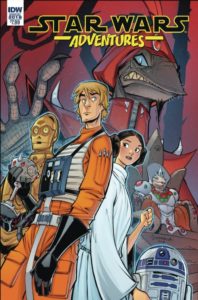 Here's a cool-looking stand-alone Star Wars Adventures story from John Jackson Miller! Must have for SW fans!
"With Leia injured, it's up to Luke to undertake a sensitive diplomatic mission with the easily-irritated Sarkans. What should be a routine meeting soon turns into an action-packed adventure with the fate of the galaxy on the line."
Interested in Getting Started In STAR WARS comic books? Check out our guide here.
Related shopping tags: STAR WARS, STAR WARS (NEW CANON) (2014)