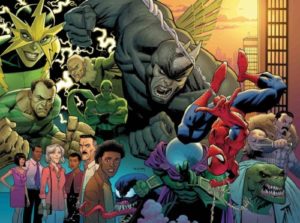 Perfect jumping-on point with a new AMAZING SPIDER-MAN #1 that's going back to basics from Nick Spencer!
"An alien invasion hits New York City and the only one who can stop it is…Spider-Man? But that's far from all you'll find here – a revelation from the past puts Peter Parker's job, relationships, and whole life in jeopardy. And if even that's not enough, you'll see a new roommate, new love interests – and a new villain. Spider-Man goes back to basics courtesy of Nick Spencer (SECRET EMPIRE, SUPERIOR FOES OF SPIDER-MAN) and the Marvel debut of RYAN OTTLEY (Invincible). Rated T"
Interested in Getting Started In SPIDER-MAN (PETER PARKER) comic books? Check out our guide here.
Related shopping tags: SPIDER-MAN, SPIDER-MAN (PETER PARKER), SPIDER-MAN FAMILY TITLES