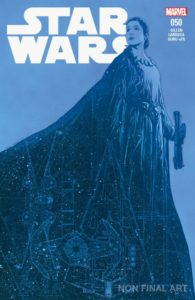 Landmark anniversary issue with an intriguing plot tease!
"IN THIS ISSUE…HOPE DIES. The REBEL FLEET is completed. It's magnificent. It's beautiful. It's secret. But no secret is kept for long from DARTH VADER. The most epic story yet done in a STAR WARS comic begins here. Prepare to witness the Empire TRULY strike back. Rated T"
Interested in Getting Started In STAR WARS comic books? Check out our guide here.
Related shopping tags: STAR WARS, STAR WARS (NEW CANON) (2014)