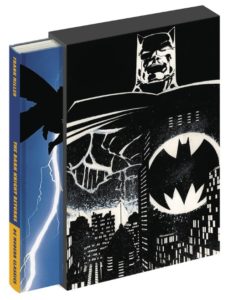 You can definitely start your high-end graphic novel bookshelf collection with this volume!
"DC introduces DC Modern Classics, collecting groundbreaking, genre-defining works in new hardcover editions, presented in a beautifully designed slipcase. In these tales from THE DARK KNIGHT RETURNS #1-4, it is 10 years after an aging Batman retired, and Gotham City has sunk deeper into decadence and lawlessness. Now, as his city needs him most, the Dark Knight returns in a blaze of glory. Joined by the new Robin, Carrie Kelly, Batman takes to the streets to face the mutant gangs that have overrun his city."
Interested in Getting Started In BATMAN comic books? Check out our guide here.
Related shopping tags: BATMAN, BATMAN FAMILY TITLES, DC MODERN CLASSICS SLIPCASE EDITIONS (2019), FRANK MILLER (A), FRANK MILLER (CA), FRANK MILLER (W)