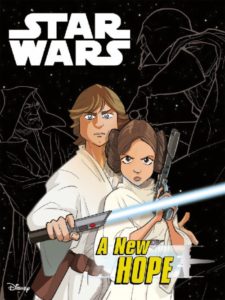 IDW continues their movie adaptations by going back to the original trilogy!
"Capturing the galaxy-spanning action of A New Hope, experience Episode IV as a beautiful graphic novel combining the epic wonder of Star Wars with streamlined, young-reader friendly designs. This all-ages graphic novel is a must-read for longtime fans and a great introduction for newcomers."
Interested in Getting Started In STAR WARS comic books? Check out our guide here.
Related shopping tags: STAR WARS, STAR WARS (NEW CANON) (2014), STAR WARS MOVIE ADAPTATIONS