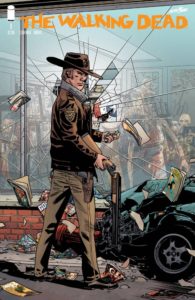 Here's a cool 15th anniversary variant cover for WALKING DEAD [2003] #1!
"Celebrate THE WALKING DEAD's 15th anniversary at the #1 place to buy THE WALKING DEAD–your local comic book shop. This edition features a brand new cover as walkers overrun comic book shops across the globe to celebrate THE WALKING DEAD DAY."
Interested in Getting Started In WALKING DEAD comic books? Check out our guide here.
Related shopping tags: EISNER AWARD NOMINEE, EISNER AWARD WINNER, IMAGE SKYBOUND, ROBERT KIRKMAN (W), WALKING DEAD, ZOMBIES