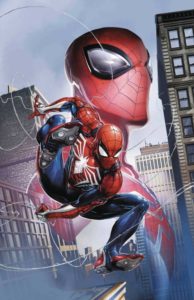 Another Spider-Verse story has been quietly unfolding in EDGE OF SPIDERGEDDON. Now the main course, SPIDERGEDDON, gets underway with a #0 issue and the introduction of a new video game version of Spider-Man, who is the key to the storyline.
"SPIDERGEDDON IS HERE. The end of all Spiders doesn't exclude the star of the most anticipated video game of 2018. Marvel's Spider-Man is out September 7, 2018 exclusively on PlayStation 4. He makes his Marvel Comics debut on September 26. How does he enter the Marvel Universe and what role will he play in the final chapter of SPIDER-VERSE? Rated T+."
Interested in Getting Started In SPIDER-MAN (PETER PARKER) comic books? Check out our guide here.
Related shopping tags: SPIDER-MAN FAMILY TITLES, VIDEO GAME TIE-IN