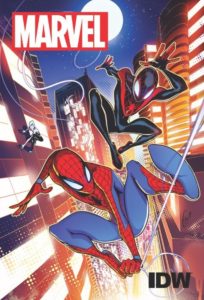 What an interesting turn of events. IDW has been doing Marvel's all-ages Star Wars stuff for a while now. Looks like they're set to expand their all-ages stuff to include Spider-Man, Avengers and the Black Panther over the next few months. Interesting indeed. This new Spider-Man series has Peter Parker, Miles Morales and Spider-Gwen all together, so it should be a huge hit with the kids.
"Readers of all ages can get tangled up in these all new adventures of Spider-Man and his astonishing friends. Peter Parker has thrown down with deadly villains and legendary heroes, but high school life might be his greatest challenge yet. Luckily, he has a shot at making the grade with a little help from his new friends… Miles Morales and Gwen Stacy. A Marvelous new era begins here."
Interested in Getting Started In SPIDER-MAN (PETER PARKER) comic books? Check out our guide here.
Related shopping tags: SPIDER-MAN, SPIDER-MAN (PETER PARKER), SPIDER-MAN FAMILY TITLES