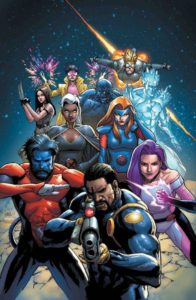 If you were looking for a place to start with the X-Men, there's no place like the relaunch of the flagship series with a new #1. Both X-Men: Blue and Gold are ending to make way for Uncanny. I'm acutely interested to see where the team will go. This 10-week weekly release is tough on the wallet, but could be well worth it. I'm also very interested to see if there will be any legacy numbering with this series, as the X-Men sat out of the wholesale re-numbering earlier this year.
"THE CHILDREN OF THE ATOM ARE BACK. New ongoing series kicking off with a 10-part weekly epic, the flagship X-Men series that started it all is back and better than ever. Starting with a mysterious and tragic disappearance, the X-Men are drawn into what might be…their final adventure? X-Fan favorite writers Ed Brisson (EXTERMINATION), Matthew Rosenberg (PHOENIX RESURRECTION) and Kelly Thompson (MR. and MRS. X) and all-star artists Mahmud Asrar (X-MEN RED), R.B. Silva (X-MEN BLUE), Yildiray Cinar (WEAPON X) and Pere Pérez (ROGUE AND GAMBIT) join forces to bring you…X-MEN DISASSEMBLED? Rated T+."
Interested in Getting Started In X-MEN comic books? Check out our guide here.
Related shopping tags: X-MEN, X-MEN FAMILY TITLES