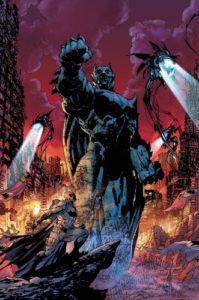 If you were waiting for the trade compilation of DARK NIGHTS: METAL, it starts with this volume. Enjoy!
"For years, Batman has been tracking a mystery. He's quietly been pulling a thread, conducting research in secret laboratories across the globe and stowing evidence deep in the Batcave, hidden even from his closest allies. Now, in an epic story spanning generations, the heroes and villains of the DC Universe, including Green Lantern, The Joker, Wonder Woman and more, are about to find out what he's discovered-and it could threaten the very existence of the Multiverse. This trade paperback edition collects Dark Days: The Forge #1 and Dark Days: The Casting #1, as well as classic DC stories that built the foundations of Metal, including Final Crisis #6-7, The Return of Bruce Wayne #1, Batman #38-39, Nightwing #17 and more."
Interested in Getting Started In BATMAN comic books? Check out our guide here.
Related shopping tags: BATMAN, BATMAN FAMILY TITLES, DARK NIGHTS: METAL (2017)