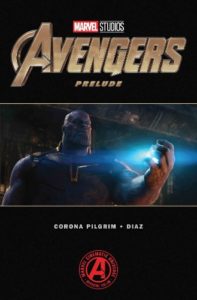 The solicitation paragraph is not explicit about this, but this mini-series is really the comic book adaptation of AVENGERS: INFINITY WAR. The adaptations of Marvel Cinematic Universe (MCU) films haven't been as popular as the original stories, but still worth a read.
"A COSMIC CALAMITY. From the dawn of the universe came six INFINITY STONES, each in control of an essential aspect of existence: space, reality, power, soul, mind and time. Now, THANOS strives to collect them all to further his mad plan of wiping out half the universe's population. Standing between him and his goal: the AVENGERS, the GUARDIANS OF THE GALAXY, SPIDER-MAN, and more. But with one Infinity Stone already in Thanos' possession, will even the combined might of the Marvel Universe be enough to stop him? Rated T+."
Interested in Getting Started In AVENGERS comic books? Check out our guide here.
Related shopping tags: AVENGERS, AVENGERS FAMILY TITLES, MARVEL CINEMATIC UNIVERSE (MCU), MARVEL CINEMATIC UNIVERSE (MCU) – CONTINUITY