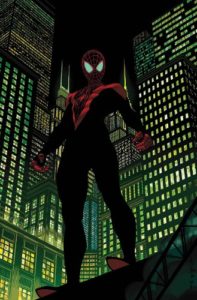 Miles Morales gets his own ongoing Spider-Man series…again. Can't wait to see where this character goes next!
"Balancing his normal life, school, parents, etc…and super-heroing has never been easy, but when the Rhino and a cadre of mysterious criminals start plaguing Brooklyn, things take a dark turn. And Miles doesn't even know the half of it yet. Eisner Award-winner Saladin Ahmed (BLACK BOLT) and Young Gun Javier Garrón (ANT-MAN and THE WASP) bring you the latest incarnation of the coolest character in the Marvel Universe. Rated T."
Interested in Getting Started In SPIDER-MAN (MILES MORALES) comic books? Check out our guide here.
Related shopping tags: SPIDER-MAN, SPIDER-MAN (MILES MORALES), SPIDER-MAN FAMILY TITLES