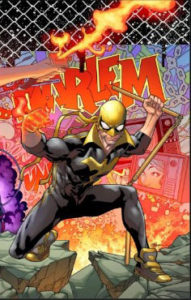 Typhoid Mary kicked Iron Fist's butt in their first meeting in the Netflix television series. Let's see what happens in the 'real,' comic book world!
"Typhoid Mary is stronger than ever, and Spider-Man and the X-Men know that better than anyone as they've been forced to fight among themselves. As her powers grow stronger, it's only a matter of time before Typhoid Mary turns Manhattan into her own personal playground – if not her own personal ashtray. Luckily, IRON FIST is in town and willing to lend a hand…er…fist. But will the Master of Kung Fu be able to stop the flames from spreading, or will he just add fuel to the fire? Rated T+."
Interested in Getting Started In IRON FIST comic books? Check out our guide here.
Related shopping tags: DAREDEVIL FAMILY TITLES, IRON FIST