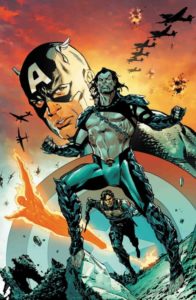 This new series look interesting. Most times, Marvel tries to tell stories of the Invaders from the WWII era, and they don't really resonate with the modern reader. But this looks like a modern story–with the characters in their current-day identities–and just assuming all the backstory from WWII. Very intriguing.
"THE GREATEST GENERATION OF MARVEL HEROES IS BACK – TO STOP ONE OF THEIR OWN. In commemoration of Marvel's 80th anniversary and springing from events in the pages of AVENGERS and THE BEST DEFENSE, the Marvel Universe's first super-team is back. CAPTAIN AMERICA. THE HUMAN TORCH. THE WINTER SOLDIER. NAMOR. They fought in WORLD WAR II together as THE INVADERS. But now NAMOR is the enemy, a global threat more powerful than ever. His deadly plans are as deep and far-reaching as the ocean and REVELATIONS about his past could THREATEN the MARVEL UNIVERSE. It's up to his old teammates to stop him, but what chance do they have against the man who knows their every move? 'War Ghost' begins here. Rated T."
Interested in Getting Started In CAPTAIN AMERICA (STEVE ROGERS) comic books? Check out our guide here.
Related shopping tags: CAPTAIN AMERICA, CAPTAIN AMERICA (STEVE ROGERS)