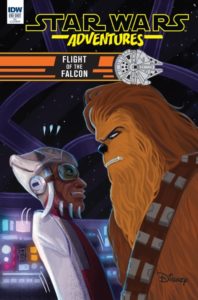 This one-shot concludes the serialized backup story arc that runs through STAR WARS ADVENTURES [2017] #14-17. Kind of a slimy way to score more cash from our wallets. But it's Star Wars, so I'll pay regardless.
"The Flight of the Falcon ends here. We've followed Bazine Netal's quest for the legendary starship the Millennium Falcon, but here's one final tale yet to be told, featuring famous pirate captain, Hondo Ohnaka."
Interested in Getting Started In STAR WARS comic books? Check out our guide here.
Related shopping tags: STAR WARS, STAR WARS (NEW CANON) [2014]